Journalist Resource November 5, 2020
Ethics and Journalistic Collaboration in Covering Conflicts in the Amazon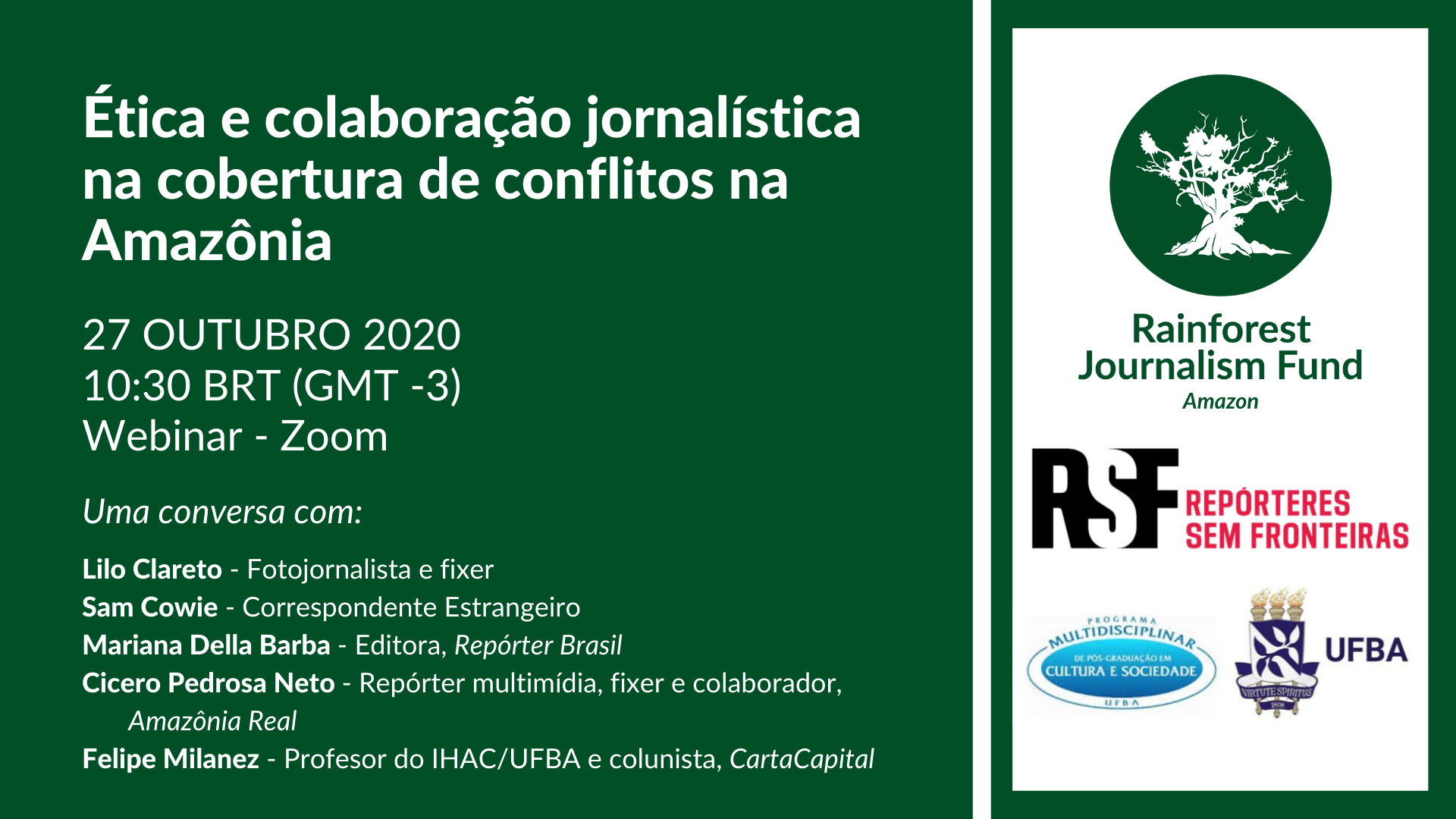 The Amazon region is a key actor in global environmental journalism. In a context marked by multiple conflicts, reporters from outside the Amazon rely on the support of local journalists and reporting partners, who are more familiar with the region, to identify good stories, travel with safety, and produce quality reporting.
This collaborative relationship between outside reporters and local reporting counterparts commonly known as "fixers" is crucial but often overlooked, and it exposes ethical tensions at the core of journalism.
With this background in mind, the Amazon Rainforest Journalism Fund (RJF)—in partnership with Reporters Without Borders (RSF) and the Federal University of Bahia (UFBA) Humanities Institute— hosted a conversation on "Ethics and Journalistic Collaboration in Covering Conflicts in the Amazon" in a webinar held on October 27.
The conversation focused on topics such as the vulnerability of local journalists to reprisals from powerful interest groups, how to protect sources even in the face of death threats, the precariousness of labor relationships, the lack of public recognition, and the perpetuation of colonial power dynamics in journalism.
Moderator Felipe Milanez, a journalist and professor at UFBA, kicked off the session by asking the panelists what gives them hope in the contemporary Brazilian journalism landscape. And while reporters on the ground in the Amazon are no stranger to legal and even physical threats on the job, the panelists had encouraging perspectives.
"What inspires me a lot in media coverage of the Amazon is the emergence of new independent media outlets, which are often produced by the local populations themselves in different Amazonian regions," said panelist Sam Cowie, a British journalist based in São Paulo.
Mariana della Barba, editor-in-chief of independent news outlet Repórter Brasil, has followed the development of alternative media throughout Brazil with interest. With the growth of alternative media, she has also seen an accompanying increase in adversarial journalism that does not shy away from naming names when it comes to identifying the people and companies responsible for destroying the rainforest.
"We are starting to put our finger in the wound and show who the culprits are," della Barba said.
Fostering relationships with sources
Cícero Pedrosa Neto, a multimedia reporter for Agência Amazônia Real, weighed in on the complicated position of local reporting partners and reporters when faced with the oftentimes exoticized and colonial perception of the Amazon by outsiders. "There is a pervasive idea that traveling to the Amazon is this great adventure," Pedrosa Neto said.
As a journalist, especially as a photojournalist, he is conscious of an ethical responsibility toward his sources. His sources are frequently Indigenous people in the Amazon, people who have been historically marginalized and depicted as an exotic "other."
"A camera is a symbol-production machine," said Pedrosa Neto. "And the way that photos will impact the life of this 'other' should always be something that we take into account."
For Lilo Clareto, a photojournalist who has also worked as a local reporting partner since 2019, a fundamental part of his job is to establish trust between outside journalists and local communities, and ensure the safety of all parties involved. Clareto explained that cultivating respect between him and Indigenous sources is essential to avoid reproducing colonialist power dynamics.
"I only take pictures where I am welcomed," Clareto said. "Where I am allowed to do so, I do. Outside of that, I don't. I really don't. Because to me it's an ethical issue, it's about having respect for other people. Because photography is an invasive thing; you have to have that respect for people. Both professional respect and personal respect."
Ethical responsibility in coverage
Ethical collaboration in the era of COVID-19 also means taking exceptional health precautions. Della Barba cited her own publication, Repórter Brasil, as an example. When COVID-19 broke out, Repórter Brasil made the decision to postpone or outright cancel field reporting that would have required traveling to Indigenous communities, rather than risk contaminating them with the virus.
"The priority must always be the people we are interviewing, our sources," della Barba said. "Going to an Indigenous village right now isn't safe, it's very risky, so we are not going to do that. Risking taking the virus to an Indigenous village is the most unthinkable thing we could do."
The webinar drew to a close with a reflection about the future of journalism in the Amazon. Della Barba, who as a mother admitted she considers herself an optimist for the future generation, spoke encouragingly to the new generation of journalists.
"I think it's a difficult time, but it's also an exciting time," della Barba said. "I strongly believe that younger journalists, those in college or recent graduates, have even more of an ability to cover this time than we do."
The panelists agreed to conclude that the development of new platforms and new voices is promising, and that collaboration will remain central to the future of journalism in the Amazon. "During this time that we are living through with a shortage of resources, with restrictions due to the pandemic, and other health concerns, it is essential that we work together, and this is the future of journalism," Cowie said. "Together we are stronger."
---