Resource November 6, 2020
Strengthening Your Pitch to the Rainforest Journalism Fund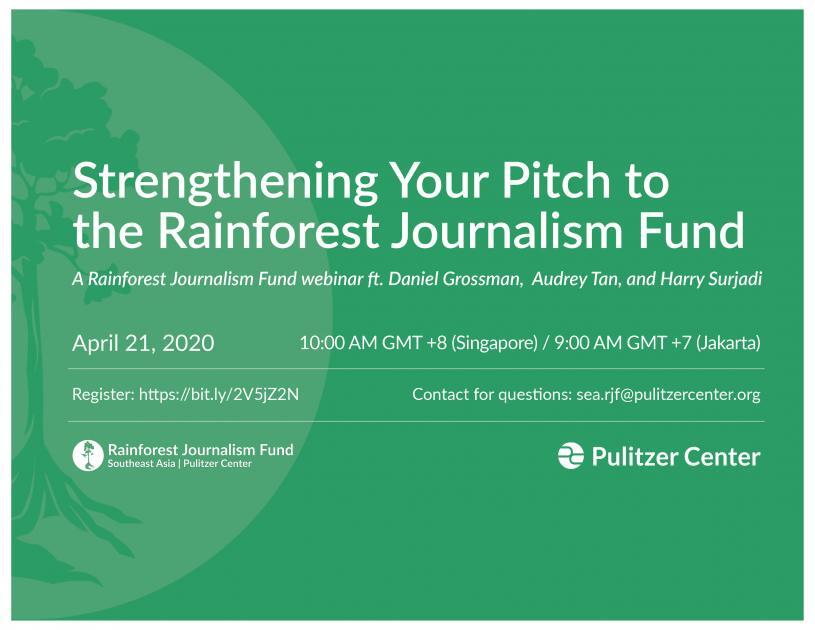 The Pulitzer Center's Southeast Asia Rainforest Journalism Fund (RJF) hosted a webinar in April 2020 titled "Strengthening Your Pitch to the Rainforest Journalism Fund." This webinar featured members of the Southeast Asia RJF Advisory Committee, who shared insights about what makes a strong pitch for RJF's funding opportunities. 

The Southeast Asia Rainforest Journalism Fund Coordinator Harry Surjadi kicked off the webinar and provided useful tips on drafting a successful pitch. Surjadi has worked as both a reporter and editor, and thus understands the art of pitching from both ends of the process. He emphasized the importance of understanding the audience of the outlet being pitched to, because if the story does not align with the outlet's interests, it will likely not be published. He also discussed how the premise of a pitch should not only topically match the outlets' coverage, but should also geographically match. For example, a pitch to a local media outlet should focus on a local issue. A pitch to a regional outlet should focus on a regional issue.

The Southeast Asia RJF specifically is looking for full project proposals, including details about what a story (or stories) will cover. Strong proposals go beyond just a short pitch on the topic; it is important to not just discuss the environmental problem at hand, but also to explain the story's purpose, the plan for covering the subject, and the intended impact of its coverage. Proposals can be from any professional journalist, freelance or affiliated with an outlet, but they must focus on a tropical rainforest-related issue from the region.

Some questions that should be addressed in proposals submitted to the Southeast Asia RJF include:
Why is your intended story subject important?
What do you hope will result from your reporting? Could your story change policies, inform other decisions, change certain behaviors of your audience, etc.?
How will you go about your reporting? Where are you going, for how many days, and who will you interview?
What is the intended medium of your story and why is this the most effective way to convey it?
A full list of Surjadi's tips for journalists can be found at this link.

Nora Moraga-Lewy, the Rainforest Journalism Fund's manager, elaborated on logistical details regarding RJF grants. She explained what kinds of expenses RJF grants can fund, which include transportation costs, accommodation, meals, park permits, passport and visa fees, and local collaborators such as translators. Work stipends are only considered in exceptional circumstances, as RJF expects news organizations to pay journalists for their work.

Generally, RJF does not fund breaking news reporting, and so applicants should not expect instant responses after submitting their proposals. A regional advisory committee with diverse environmental reporting experience reviews proposals on a rolling basis, and if a proposal is approved, then RJF processes payments every two weeks. The committee does not require a certain length of budget for projects, but rather expects reasonable time and budget estimates. 

The Southeast Asia RJF typically accepts proposals in bahasa Indonesia and English, but the reporting may be published in any language. In some cases, such as in the November 2020 Special Call for Proposals, applications may be submitted in other languages.
Moraga-Lewy's full presentation is available at this link. A sample budget can be found here.

RJF Southeast Asia Advisory Committee Member Audrey Tan provided an insightful perspective on successful pitching as an environmental reporter affiliated with a media organization. Like Surjadi, she discussed how a pitch must be tailored to a media outlet's specialty and audience in order to be considered. Tan further recommended even pinpointing which section of an outlet the story would best be published in. Editors appreciate it when journalists are prepared with a clear and thought-out plan—editors often don't always have the time to help a writer flesh out their story idea. In the pitching process, Tan said, it is also important not to oversell a story, and that writers must only sell to an editor what they know they can deliver. While the market for environmental reporting can get competitive, there are many ways to make a story idea stand out more in this digital age, such as by exploring different mediums like photography, videography, and podcasts.

Finally, Daniel Grossman, an experienced and broadly published science journalist, gave some insights of his own. Grossman is a Pulitzer Center grantee himself. He discussed the various components of a story idea that must be considered beyond the pitching process—including planning for travel, additional funding, and collaborations. He divided his tips into three categories: access, money, and outlet. 

Access: Journalists must work out how exactly they plan to access the subjects and resources needed to report their story. Accessing a story means finding a way to travel—which, in remote places, may require the accompaniment of experts or researchers in the area. Thus, having a strong reputation and understanding of the environmental concept one plans to report on is crucial to establish the professional partnerships needed for travel. (Note, however, that in COVID times, if journalists want to travel, they must ensure that they will travel only minimally and that it will be safe.)

Money: There are a variety of ways to fund a story expedition beyond just an RJF grant. Journalists can look into other ways to obtain reporting funds, such as directly from their outlet, a foundation or NGO, crowdsourcing, or even a fellowship. Because an RJF grant cannot fund all reporting costs, supplementing other costs through other fundraising means is effective.

Outlet: There are numerous factors to consider when choosing an outlet to commit to. Of course, impact is important, and so publishing a story on a larger site might be more impactful and rewarding. However, it is also helpful to consider that smaller outlets are typically more likely to buy stories than larger outlets, especially when they receive less pitches.

You can find a link to Grossman's full presentation here.

During the Q&A portion of the webinar, the panelists were asked what kinds of new story angles they would like to see proposed. Grossman said that an innovative story angle would be to synthesize a common environmental phenomenon from different places and perspectives. Comparing and contrasting perspectives on an environmental issue, instead of focusing on one overreported perspective, can make a story appear refreshingly new. Surjadi said that he personally would like to see more proposals on investigative reporting, especially on subjects that people don't know much about. Tan agreed with Surjadi regarding excitement for investigative reporting proposals, and included that she would be interested in seeing proposals for stories that debunk commonly held conceptions or beliefs.

Journalists interested in applying for a reporting grant should visit the Rainforest Journalism Fund's grant page. Surjadi, the Southeast Asia Rainforest Journalism Fund coordinator, is available to answer questions. He can be contacted at [email protected].

The Rainforest Journalism Fund is accepting proposals on a rolling basis through 2023.