Journalist Resource December 12, 2022
Webinar: Dom Phillips Reporting Grant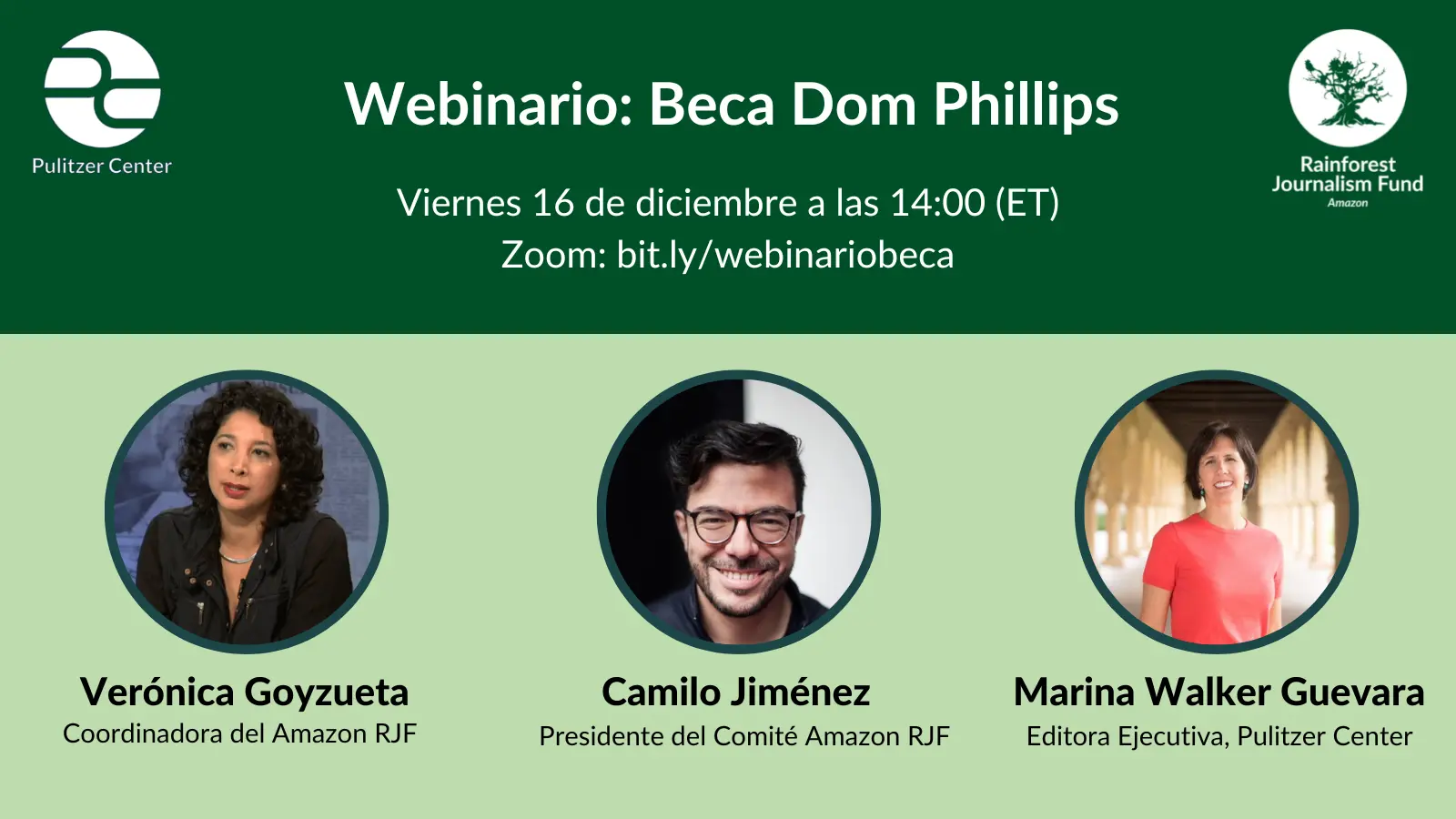 The Pulitzer Center's Rainforest Journalism Fund (RJF) launched the Dom Phillips Reporting Grant on December 5 to honor journalist Dom Phillips and Indigenous expert Bruno Pereira who were assassinated six months ago during a trip to the Javari Valley. 
This special grant seeks to fund ambitious journalism projects with wide national or international circulation and reach that investigate the future of the Amazon and how to prevent its collapse. 
We invite journalists (staff and freelancers), editors, independent media worldwide to propose projects focused on the search for solutions for the future of the Amazon. We encourage journalists to report as Phillips always wanted: on the ground, in conversation with local and Indigenous communities, and seeking solutions to save the world's largest rainforest and those who inhabit it. 
We usually receive a large number of proposals about the Brazilian Amazon. Even though they will still be considered, we would especially like to encourage projects about Colombia, Peru, Ecuador, Bolivia, or Venezuela. We also welcome work that offers cross-cutting views and collaboration between Amazon countries and other nations of the world. 
More information about the special call can be found here. 
The deadline to apply for the Dom Phillips Reporting Grant is January 18, 2023. Applications must be submitted in Spanish, Portuguese, or English. Reporting may be done and published in any language. 
Click here to submit your application. 
Webinar
Please join us to learn more! We are hosting a webinar with RJF Amazon Coordinator Veronica Goyzueta, RJF Amazon Committee Chair Camilo Jimenez, and Pulitzer Center Executive Editor Marina Walker Guevara. The panel will be available to discuss more about the Dom Phillips Reporting Grant and answer any questions the audience may have. 
Date: Friday 16
Time: 9h Bogotá
Duration: 60 minutes
Panel hosts: Verónica Goyzueta, Camilo Jiménez y Marina Walker Guevara
Language: Spanish 
Click here to register for the webinar.
Watch the full recording of the webinar: