Pulitzer Center Update January 9, 2020
Call for Applications: Southeast Asia Hostile Environment Training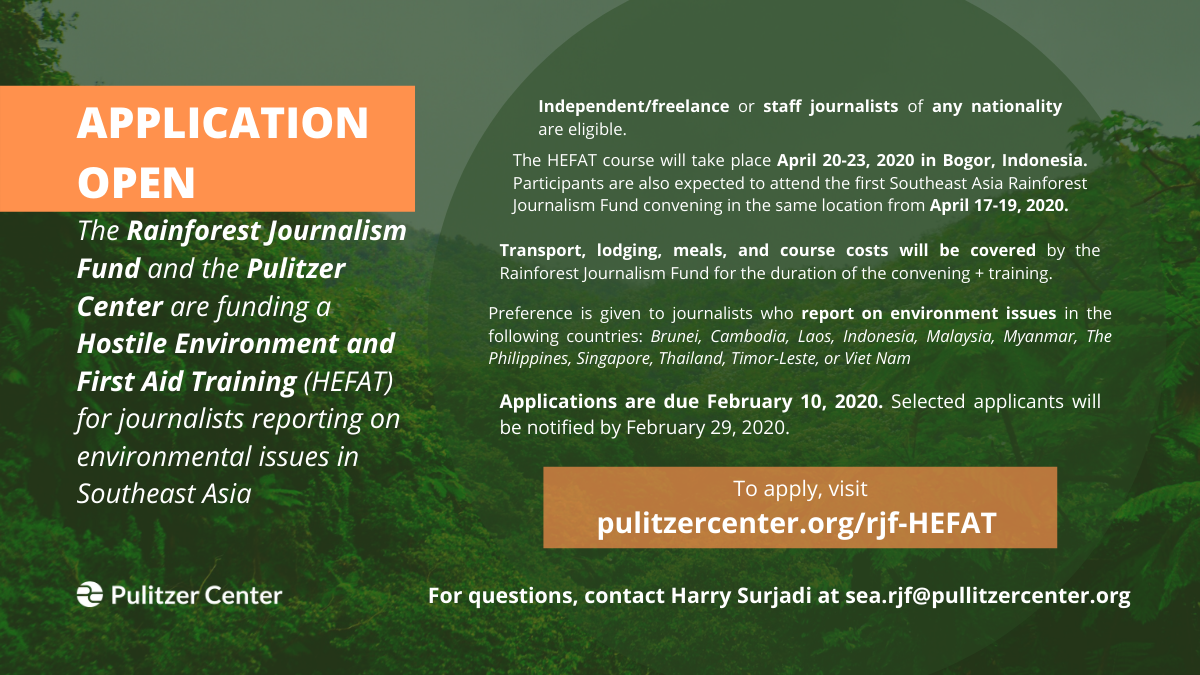 The Pulitzer Center is pleased to announce, as part of the Rainforest Journalism Fund, that we are now accepting applications from journalists working in Southeast Asia interested in taking a Hostile Environment/First Aid Training (HEFAT) course. The deadline for applications is February 10, 2020.
The Pulitzer Center will cover the costs of transportation, tuition, course materials, accommodations, meals and non-alcoholic beverages for the duration of the course for the selected applicants. The course will be open to as many as 15 journalists selected from the Southeast Asia region, including Rainforest Journalism Fund grantees. Independent (freelance) and staff journalists of any nationality are welcome to apply. Preference will be given to journalists who report on environment issues in the following countries: Brunei, Cambodia, Laos, Indonesia, Malaysia, Myanmar (Burma), The Philippines, Singapore, Thailand, Timor-Leste, and Viet Nam.
The course will be tailored to the specific challenges of reporting on environment issues in Southeast Asia. The course will run from April 20-24 in Bogor, Indonesia. Applicants must agree to arrive in Bogor, Indonesia on Thursday, April 16 and be available through Thursday, April 24, 2020 so that they may participate in the first Southeast Asia Rainforest Journalism Fund convening. Applicants for the training opportunity will be responsible for obtaining required travel visas.
The Pulitzer Center is a founding member of the ACOS (A Culture of Safety) Alliance, an unprecedented coalition of news organizations, freelance journalist associations and press freedom organizations working together to champion safe and responsible journalistic practices for freelance and local journalists worldwide. The Alliance facilitates collaborative initiatives to improve the safety of journalists exposed to danger.
Applications should be submitted using the 2020 Southeast Asia RJF Hostile Environment Training webform. Deadline for submissions is February 10, 2020.
Journalists selected for the training will be notified by February 29, 2020.