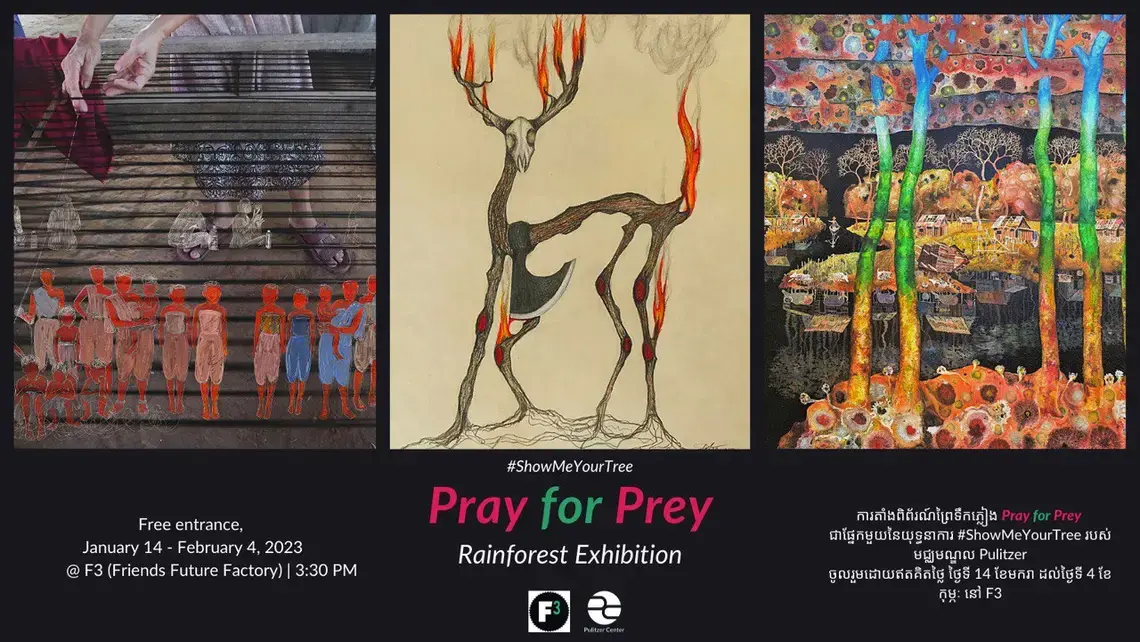 Visit us at F3 Friends Futures Factory, Phnom Penh for a unique journey deep into the troubled rainforests of the Mekong.
#PrayForPrey is an environmental art exhibition showcasing artworks from more than twenty artists, photographers, NGO workers, students, Indigenous communities representatives and journalists, part of the larger campaign #ShowMeYourTree by Pulitzer Center and following the #OurRootsOurForest exhibition in the Bangkok Arts and Cultural Center in November 2021 including as well artists from Thailand and Myanmar. This outreach program aims to engage a wider audience with environmental topics crucial to our time of global climate and biodiversity crisis, using art and information to bring people closer to nature while celebrating the work being done to protect it.
Cambodia has lost 20 percent of its tree cover in the last two decades, according to GlobalForestWatch data. Each felled tree carries a story, a memory lost from a source of shelter and sustenance for animals and people. This exhibition captures both the challenges of preserving our forests and the actions taken by empowered communities to retain them in the fight to secure our ecosystem and biodiversity. From environmental journalists to conservationist photographers; accomplished artists to students, we hope these works express narratives rooted in the forests we need to survive. Taken together, they represent small actions by forest communities, civil society groups, artists and activists brave enough to stand by the planet we all share.
Borrowing the word for forest in Khmer language, Pray for Prey consists of a journey that goes from images of a past of untouched nature, to the present clash and, finally, solutions for the future. Or traveling backwards, represents the people on the ground defending the trees, against the issues we currently face, towards restoring the harmony between humanity and nature we all need to survive as a species, as a thriving planet. Come join us on Saturday, January 14th, for an afternoon learning about the importance of rainforest preservation, challenges for conservation and the amazing work being done on the grassroots level by indigenous communities, NGOs and nature lovers. With a traditional dance performance, activities for children, live painting and more!
Unable to make the exhibit in-person? You can visit the virtual exhibition here!
List of artists:
Andy Ball, photography and mixed-media
Chea Sereyroth, paintings on Khmer natural mats
Dahlia Phirun, paintings and drawings
Emilie Languedoc, multimedia
Hour Seyha from Romcheik5 art collective, paintings
Janice Seng, illustrations
Jeremy Holden, photography
Lucky the artist elephant from Phnom Tamao rescue center by Wildlife Alliance, photos and paintings
Miguel Jeronimo, photography, AI art and mixed-media
Phina So and others, collection of poems on plant pots by Repot Derm
Roma Garzonio, mix-media sculture
Roun Ry, photography
Sam Daro, drawings
Sao Sreymao, digital illustration on photos
Sean Gallagher, video
Tamara Venn, prints of paintings
Udam Pen/Penkuro, Samia Singh, Techit and Monorom, illustration book and informative deck of cards
done with the design-residency program DoorToAsia and the Kuy community of Kompong Thom
Vincent Romera, photography
Yann Bigant & Sar Senkethya, photography