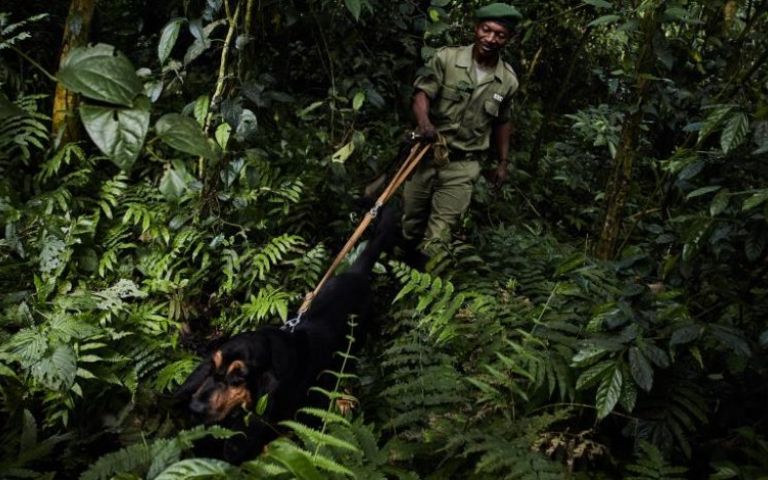 Photos by Hugh Kinsella Cunningham, text by Amelia Goldsmith.
North Kivu, Democratic Republic of Congo, Dec 18 (efe-epa) — Deforestation and the unbridled exploitation of natural resources in the massively biodiverse Democratic Republic of Congo could leave humanity further exposed to the next super virus.
While the world's attention is fixed on Covid-19, conservationists in the DRC are calling for greater environmental protection not just for conservation's sake, but in order to minimize future outbreaks of zoonotic diseases, which abound in rich ecosystems like the Congo.
Scientists believe that mammals alone are estimated to host at least 320,000 undiscovered viruses, according to a 2013 paper by the American Society for Microbiology.
The Congo's biodiversity has already served as the launchpad for deadly novel viruses such as HIV and Ebola, both of which — like SARS, West Nile and Covid-19 — are zoonotic in origin.
"The fact [is] that the health of the environment and the development and expansion of these terrible diseases are profoundly interlinked," says Emmanuel de Merode, Director of Virunga National Park, in the country's east.
"Every Ebola epidemic since the original one recorded in the mid-1970s found its origins in an area of massive deforestation."
De Merode notes that the 2018-2020 epidemic, which claimed over 2,000 lives, failed to spread east through the National Park.
"What's also significant about that epidemic is that whilst its origins were tied to forest destruction, the fact that it was successfully contained is tied to, as it were, a natural firewall that was created by a healthy ecosystem that buffered the expansion of that disease," he adds.
"It was the National Park that prevented this terrible Ebola epidemic from spreading east, into eastern Africa and into major cities such as Goma."
Policy initiatives to strengthen conservation efforts face an uphill battle in the region, which is riddled with complex historical, social and political issues, in a nation still grappling with the wounds inflicted by Belgium's brutal colonial rule, during which an estimated 10 million Congolese are thought to have died.
The DRC remains one of the most disenfranchised and impoverished areas of the world. Almost three-quarters of the population scrape by on less than $1.90 per day.
Faced with such economic prospects, many communities rely on bushmeat, which is believed to have provided the zoonotic bridge for Ebola.
Power vacuums and conflict, especially in the restive eastern provinces like North and South Kivu and Ituri, make it hard to keep tabs on unregulated mining and logging, which destroy natural habitats.
"Deforestation is an issue that touches on a whole number of problems in this region," De Merode continues.
"Of course it's an environmental concern, the destruction of National Parks, the habitats for critical species like mountain gorillas and chimpanzees and so on."
"But it also has a very human dimension, in that there is an incredible dependency on that forest, particularly for fuelwood and charcoal."
Militias make money from illegally logging protected forest areas, which allows them to expand and thus perpetuate suffering in the region, he adds.
Poaching and the trafficking of exotic animals are also both rife in this rich ecosystem, home to rare gorillas and pangolins — suspected to be a secondary host for Covid-19 before it spilled over into the human population.
These issues are compounded by a weak healthcare system that leaves local communities neglected and exposed.