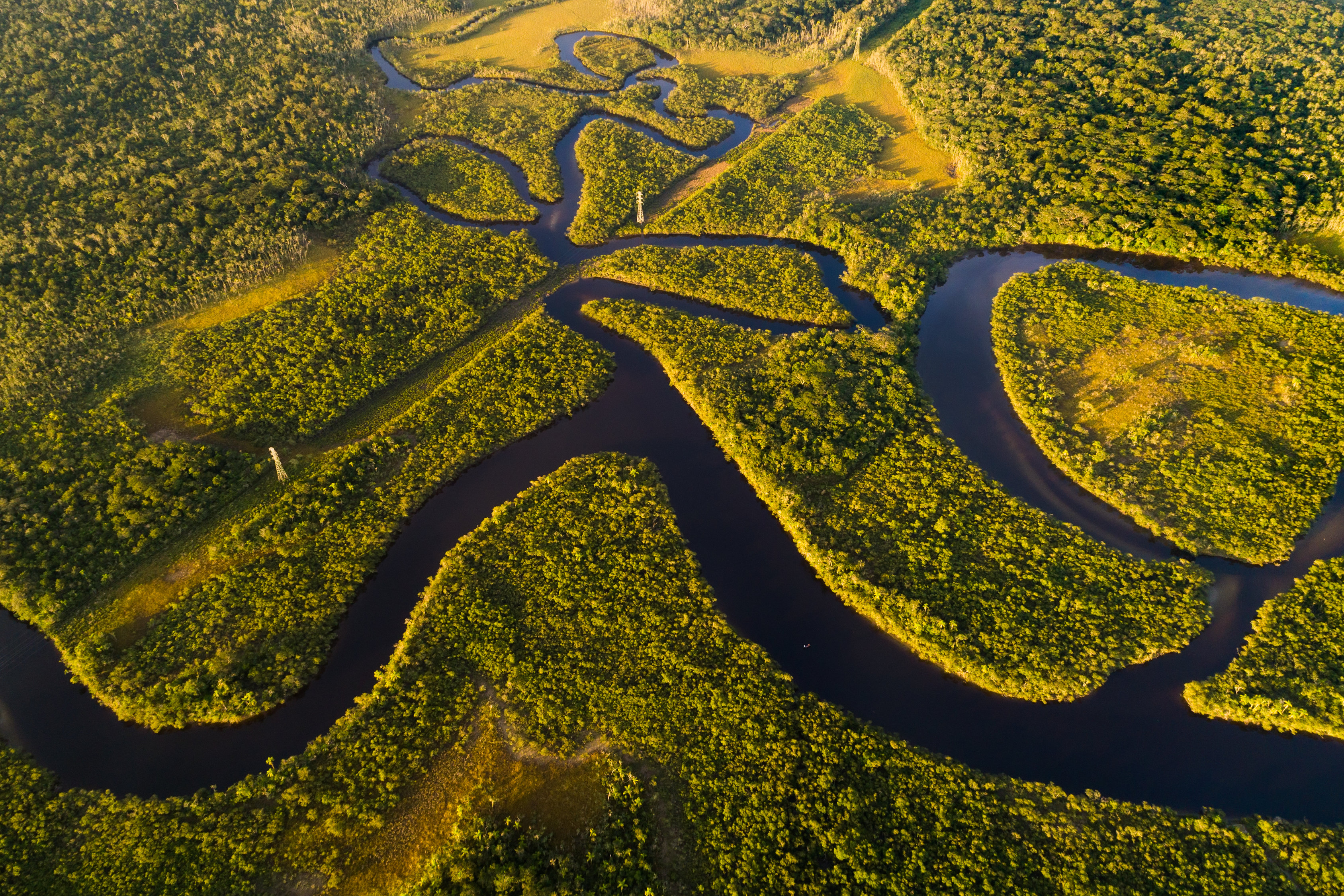 Jean Bellini is a nun who believes that God made us free, and that we've used our freedom poorly. We've used it to create colonialism, capitalism, and other systems that exploit the poor and reward the rich; we've used it to build a world in which some people have too much and others have nothing. Now, we're in a fix. When terrible things happen, Bellini sometimes hears people say that they might turn out all right, "God willing." She thinks, I wouldn't put that burden on God. He made us free, and it's not His job to save us.
Bellini does believe that God gives everyone a vocation. Hers is to help others help themselves. In 1976, when she was thirty-three, she decided to move from upstate New York to Brazil, where her Rochester-based congregation had a small outpost. She had learned that Brazil's military dictatorship had decided to make room for all kinds of commercial enterprises in the Amazon rain forest: a cattle ranch owned by Volkswagen, a rubber plantation for Goodyear. The problem was that lots of people, from indigenous groups to squatting farmers, already lived in the Amazon. They were being kicked off their land and the forest was being destroyed.
When Catholicism arrived in Brazil, in 1500, it was cruel to the people it found there. Portuguese colonists claimed a religious imprimatur, baptizing the people they enslaved to sell the forest for parts. "From the moment Columbus set foot in the New World cross and sword had been indistinguishable," the Catholic investigative journalist Penny Lernoux wrote, in her book "Cry of the People"; by the time Brazil declared independence from Portugal, in 1822, the Latin American Church was "the most conservative political force on the continent." In 1964, when Brazil's military took power, the nation's bishops greeted the generals warmly. "Look behind a dictator; there stands a bishop," Lernoux wrote.
And yet, when Bellini arrived, she encountered a fractured Brazilian Church that was, in many of its parishes, revising its thinking. The Pastoral Land Commission (C.P.T.), a new Catholic group founded by bishops, was organizing Brazil's landless to claim the land denied to them; its mission was to document all land conflicts and, where it could, offer guidance. The C.P.T.'s job did not end when, in 1985, Brazil's military dictatorship concluded and gave way to a succession of flawed democratic governments. In the fall of 2018, voters elected President Jair Bolsonaro, a populist ex-military politician determined to pillage the Amazon. About a million square miles of the forest fall within Brazilian territory; as Jon Lee Anderson wrote recently, in this magazine, its "destruction has become a kind of perverse political goal" for Bolsonaro. He has weakened regulatory agencies, sought new legislation to prioritize mining and drilling, and accused environmentalists of neocolonialism. Indigenous people, he has said, are a "chicken pox" upon the rain forest.
This rhetoric has invited profiteers to break the law; since Bolsonaro took office, thousands of fires, many set by prospectors, have deforested and devastated the Amazon. The C.P.T. documented thirty deaths in disputes over land rights last year. It has started running security workshops, advising volunteers who work in conflict environments to communicate on the encrypted messaging service Signal and choose their car mechanics carefully. The situation is so dire that, this past fall, a hundred and eighty-five bishops met for twenty-one days, at the Vatican, for a synod on the Amazon region; there, they declared that supporting its displaced people is a "requirement of faith." The Church, in 2020, is determined to be non-colonial. The communities who call the forest home, the bishops wrote, "know how to take care of the Amazon, how to love and protect it," and it is the Church's job "to accompany them, to walk with them, and not to impose on them a particular way of being."
On a Sunday morning in August, Bellini, who is seventy-six, was in her bedroom in Goiânia, Brazil, packing a rolling suitcase for a flight to the Amazon. She is about five feet tall, with curly white hair and an unlined, narrow face. She is now an executive at the C.P.T., which had just hired new staff in Manaus, the capital of Brazil's Amazonas State. In 2018, there were more than a thousand conflicts over land in Brazil, almost half of them in the Amazon; the C.P.T. has a staff, most of them volunteers, of about seven hundred, but until recently it had only a single employee in Manaus. Bellini was going there to see how the new hires were doing. She chose three pillows for her bad back: one for the plane and two for the twin bed in which she'd be sleeping, at a local seminary. Then she went to the kitchen to fix some breakfast.
Bellini lives with Sister Maureen Finn and Sister Joana Mendes, who belong to her congregation, the Sisters of St. Joseph of Rochester. The congregation, which has nine women in Brazil, built the house in 2012. It has solar panels, a prayer room strung with paper cranes, and a small library containing books by Latin America's liberation theologians and the Dalai Lama. The women find themselves talking a lot about Bolsonaro.
"He said a really disgusting thing yesterday," Finn said, opening a newspaper on the kitchen table. "I can't even repeat it."
"It was that people should pollute less by shitting less," Bellini said. She took out of the refrigerator a big dish of yogurt mixed with milk—an experiment in making the pricier product go further.
On Sundays, Bellini attends mass at Our Lady of the Earth, an octagonal church named for a symbolic champion of Brazil's rural poor, represented in images as a chin-up, dark-skinned woman who looks nothing like classical depictions of the Virgin Mary. We parked in front of a nail salon, crossed the street, and slid into the second row of pews. A man played guitar as the congregants clapped and swayed; when the music got really peppy, Bellini tapped her foot. Then the priest stepped down from the altar to give his homily, in Portuguese.
Afterward, in the car, Bellini summarized what the priest had said: God won't help you, so help one another; you might not see the results of your work before you die, but it's meaningful anyway, because the people born after you matter just as much as you do. This was a creed of which Bellini approved. It was Father's Day in Brazil, and stores were closed; the red-and-gold signs for the Assemblies of God—the Pentecostal denomination into which Bolsonaro was baptized before his Presidential run, although he remains a Catholic—stood out against abandoned construction sites and squat, concrete buildings. In recent years, Brazilian Catholicism has been in decline, and Pentecostalism ascendant. "They focus on 'Our condition is sinful, and we need redemption,' " Bellini argued, of the Assemblies of God. Wearing sunglasses over her regular glasses, she shifted gears with effort. She recounted how, soon after Bolsonaro took office and started cutting social services, an acquaintance who attended the Assemblies of God suggested that the resulting hardships, and also the Amazon fires and displaced families, were "signs of the end of times."
" 'Follow these rules and you're saved,' " Bellini went on, summarizing the Assemblies' outlook. "It keeps the poor in their place." If she had her way, those who have been denied their share of the Earth will see that this situation is not God's plan. They will join together and create the just and equal world that God desires. From the left, a car without the right of way merged suddenly into our lane, cutting us off. Bellini whistled in frustration and gave it a hard stare.
The land at Kilometre 152 of Highway BR-174 is rococo in its greenness and relentlessly damp. The governor of Amazonas State granted the first title to it in the summer of 1970. At that time, the forest north of Manaus was home to the Waimiri-Atroari indigenous people. The Brazilian state, under army leadership, decided to remove them, so that others could use it more profitably; in subsequent conflicts with the government, tribe members died by the thousands. But the new owner of the parcel didn't actually live on it; neither did the next one, or the next, or the next, or the next. It remained forested and undeveloped. In 1999, a man named Valdomiro Machado and a few companions arrived there in a motorized canoe. The place seemed like it might make a good home. Machado and the other men sent for their families to join them, and they settled by the water, calling the area Terra Santa.
The six families, all farmers of small lands and from different Brazilian states, had met at an Assemblies of God church just outside Manaus, where they'd stopped while looking for new agricultural land. In Terra Santa, the group cut into the forest just enough to build little houses, sow collard greens and zucchini plants, and, eventually, keep some cattle. As the shade receded, so did the mosquitoes. They built their own Assemblies of God church. When no one came to kick them off the land, more squatters showed up. Soon, forty or so families lived there.
One of the new arrivals was a man named João. In 2008, three years after João moved in, he announced to his fellow-squatters that he had acquired the legal title to Terra Santa. Machado had a plot next to the water; it was, he thought, both convenient and especially beautiful. For the plot, Machado says, João offered him about fifteen thousand U.S. dollars and a used truck, both of which Machado declined. Next, João got a court order to evict him. Not long afterward, he turned up with some cops and a bulldozer, which destroyed Machado's home, where he had raised seven children. (João says that Machado and other neighbors rejected his offer to give them free titles to their plots.) Machado, who is seventy-three, left Terra Santa for Manaus, where he lives off his pension. Some of his neighbors followed him to the city; João acquired their land, opening a lumber mill in Terra Santa and, later, a construction business in Manaus.
Early on a Tuesday morning, Bellini climbed into the back seat of a Fiat coupe to make the drive from Manaus to Terra Santa. With her were two new C.P.T. employees: Maria Agostinha de Souza, a nun with curly hair, was at the Fiat's wheel; Maiká Schwade, a blond geographer who'd done his doctoral work on the area's land conflicts, followed in his own car. Manaus functions as a way station for those travelling into the Amazon, and, as the cars convoyed north, Bellini rolled down her window and contemplated signs for malls and the I Love You Motel. Bellini saw sugarcane fields, abandoned roadside restaurants, oil trucks, and then nothing but forest, into which, two hours later, we took a right turn. The dirt road was so sliced up by eroding rains and lumber-truck wheels that Souza, who had spent the drive quietly praying aloud, stopped to concentrate on her driving. Bellini bobbed cheerfully in the back. It was amazing, she said, how much the squatters had done with the land, which was adorned with fencing for cattle and greenhouses for peppers. Then Souza drove by a lumberyard, and everyone frowned.
Souza turned into a clearing and parked beside a two-story wooden house. Bellini, wearing a palm-print blouse, beige capri pants, and sandals, maneuvered out of the back to greet Hebrain, who lived there with his wife, Regina, and their infant son. Regina smiled and tended the wood for an outdoor stove. She wore a patterned sundress, and had painted her toenails neon green. It was almost a hundred degrees. Insects landed on the walls of the house, trilled their wings, then vanished. The forest was noisy with unseen creatures. The C.P.T. staff followed Hebrain, who wore a tank top and soccer shorts, down a muddy wooded path to see his cucumber plants. Pausing in front of the fields, he shook ants from his flip-flops.
Bellini hung back while Souza and Schwade talked to Hebrain about João, who, Hebrain explained, kept coming by to order him off the land. Hebrain had grown up there; just down the road, his dad has enough pastureland for two dozen cattle and a house with a veranda painted yellow.
Bellini folded her arms. "How are you defending yourself?" she asked Hebrain, in Portuguese.
"By trusting in God," he replied. His smile revealed banana-yellow braces.
The group had some water and got back into their cars. After a few minutes' drive, the convoy arrived at a vividly cerulean house belonging to Luis, an eighty-year-old farmer, who had installed a tall satellite dish in the yard; it emerged from the ground like an exclamation point. Luis shooed his chickens from his porch, then talked to Souza and Schwade. He had a court date coming up, he said, but he couldn't tell from the paperwork if he was the defendant. No, Schwade explained—he was bringing a case against João.
Luis's son, Benedito, lived with his wife, Camila, in a home just behind the property. There, Camila served lunch. Bellini peered into the metal pots. She skipped the meat dish but spooned some eggs and rice onto a plate.
"It's one thing to hear about a situation," Schwade told Bellini, as he ate. "It's another thing to come to the place and see it."
"You grasp it a lot more if you visit," Bellini said.
Bellini's word for her work is "accompaniment." The term, which is old, gives Catholics a way of ministering to, or alongside, all suffering people, including those who don't fully share their faith. In 2013, Pope Francis described accompaniment as an alternative way of being with a person—in an age "paradoxically suffering from anonymity and at the same time obsessed with the details of other people's lives, shamelessly given over to morbid curiosity," it was a way of manifesting "Christ's closeness and his personal gaze." The Church, he wrote, would have to "initiate everyone—priests, religious and laity—into this 'art of accompaniment' which teaches us to remove our sandals before the sacred ground of the other."
An accompanier like Bellini is supposed to ask the accompanied what might be helpful rather than solve the problem herself. The accompanied is the protagonist; this is her journey, and she knows how to make it. That makes sense to anyone, religious or not, who believes that other people are, in Francis's words, "mysteries which no one can fully know from without." It might make less sense to anyone who believes that there is one right way to do something: a right way, for instance, to get title to a plot of land. But practicing accompaniment isn't about solving problems. It is about working as God does—walking with an imperfect world as it transforms, subtly and slowly, into the one that He intended.
The first person whom Bellini accompanied was her mother, Mary, who was fifty years old and dying of cancer. Bellini was twenty-six. "What was so special about her was her eyes," she recalled. "The way she looked at us—the way she made each one of us feel we were special. She had eight kids, and when she would hold one kid on her lap, she would say 'Love of my life' to that one." At the time of her mother's death, Bellini was attending an ecumenical prayer group. The group told her that, if she prayed hard, her mother might be healed. "She had cancer! I studied biology," Bellini said. "You get sick. In some families, they might say, 'Why her? She has a family!' Well, why should she be exempt, when millions of people around the world are dying of hunger, of curable diseases? It's part of the human condition. Violence exists in the world. It has always existed. Even in the Bible. Jesus died on the cross—God, the Father, didn't come and knock the cross down."
Bellini never expected God to save her mother; at the same time, she felt that God was with Mary when she died, and with Bellini and her family afterward. Still, believing that God won't help isn't the same as being all right with God not helping. Sisters in Bellini's congregation take annual retreats, which involve travelling somewhere to spend time in silent reflection. For a decade after her mother died, Bellini found it hard to be alone with her thoughts. Looking back, she thinks she was angry with God. She had taken her vows only a few years earlier. Perhaps scared of her anger, she experienced it as a horrible sadness.
When grieving people come to Bellini asking "Why, God?" she thinks of this time in her life and refrains from telling them how to feel. She doesn't say that we're all equally threatened by suffering, no matter how protected from it we might seem, or that we might all lose people we love, or that we all have to die. She believes that, though suffering may be inevitable, it's personal. Who is she to tell anyone how to feel about anything? Yet it's one thing to accompany the dying or the grieving and another to accompany someone who is challenging a complicated bureaucracy—someone who is fighting all of the systems, all of the assumptions, all of the greedy human choices that have resulted in this state of the world.
The next morning, Bellini climbed into Souza's Fiat again, to travel to a squatters' meeting in Rio Preto da Eva, about eighty miles north of Manaus. More than a hundred families there were worried that a government agribusiness project would put them off their farms and relocate them to small urban plots, where their crops wouldn't thrive. Souza parked next to a clearing in the trees, which was styled as a small outdoor auditorium. A couple dozen farmers sat on their motorbikes, or on new, pristine wooden benches arranged in a semicircle. One man chose a seat and then slung his giant knife into the wood, storing it there for the duration of the gathering.
A nun who volunteered with the C.P.T. addressed the group first. She explained that even the Pope was concerned about situations like theirs, which is why he had called all the bishops to Rome to talk about the Amazon. "I hope you don't give up," she said.
A young woman, missing some front teeth and managing a tired toddler, had recently visited the area where the farmers expected to have to move. Bellini wanted her to tell everyone about it. "Women can speak, too," she said, rising a little in her seat to mime the act of standing up.
The woman demurred. Instead, a community leader named Douglas got up. It looked to him, he said, like some of his neighbors were visiting the land ahead of time because they thought they could secure the best plots for themselves.
"You have to be united here," he said. "You can't be divided."
Douglas sat down, and then his neighbors rose one by one to say that, sure, they'd gone to see the new residences, but they weren't up to anything nefarious—they just wanted to know what to expect. And, they went on, the new neighborhood was as unsuitable as they'd feared, without any farmland to grow their crops, nor a local health clinic, nor a good road by which their kids could travel to school.
When it was Bellini's turn, she stayed seated as she spoke, in Portuguese. The farmers, she said, should consider joining the local association, which Douglas was leading, so that they could collectively represent themselves to the government. They might want to hold another meeting and, at that time, invite a local official. She spoke gently, moving her hands and patting at the flies landing on her ankles. Some of the farmers looked groggy and leaned forward on their handlebars. The most important point, she said, was that they needed to work together. It would be easy for officials to shortchange the community as long as some of them agreed to their new circumstances; the remaining villagers would be powerless to advocate for anything more. The outcome would be better for everyone if the farmers refused to accept anything less than justice for every single villager, and if they all agreed to resist the disempowerment that was becoming normal for Brazilians who couldn't buy their way out of problems. When she was finished, she removed a small spider from her hair.
Bellini entered her convent in 1966 , at the age of twenty-three. Five years earlier, Pope John XXIII had asked American religious orders to send ten per cent of their membership to Latin America; he did so because the Vatican, like the United States government, saw the Soviet Union and its atheistic communism as a threat. During those same years, however, theologians within the Latin American Church were beginning to reconsider Marxism. In 1968, the region's Catholic leaders and thinkers met in Medellín, Colombia. It seemed to them that the status quo, of which the Church had been an exquisite defender, had left most of the world's population oppressed, and that Catholicism should be on the side of their liberation. The liberation theologians, as they came to be known, were proposing a new understanding of sin. Sin wasn't just individual; it could be social, systemic, and structural. It was the inequality that existed before and after mass; it was the organization of the international landscape into hegemons and exploited countries; and it was neocolonialism and neoliberalism. Absolution, the Peruvian priest Gustavo Gutiérrez wrote, in 1971, would come through "a social revolution."
Bellini's Catholicism has been in some ways adrift from the Vatican—a centralized, hierarchical institution intrinsically resistant to change—since the nineteen-eighties, when it sanctioned the liberation theologians as sacrilegiously Marxist. Under Francis, the Vatican has changed in ways that are encouraging to Bellini, but it remains on the whole stubbornly orthodox, especially when it comes to women. Bellini has been to Rome once, as a tourist; she liked the art museums but didn't care for St. Peter's Basilica, which felt indifferent and remote from the God she knew. She doesn't wear a crucifix, because she doesn't approve of the way that they've been co-opted by banks and drug lords in Brazil, as a symbol of power and wealth; she doesn't say grace before meals unless someone else suggests it, because she's not one for rote prayers. When I asked Bellini if she believes in Heaven and Hell, she said no: she believes that the concepts are placeholder explanations for puzzles beyond our understanding. Bellini holds that everyone—man or woman, ordained or lay—possesses an equal share of what the Brazilian liberation theologian Leonardo Boff called "charism"—a gift, Boff wrote, through which one can be "at the service of God and neighbor." "The different roles are because you've been given a gift to live that way," Bellini said. "It's not that you're better."
Pastoral workers like Bellini, who practice accompaniment, are encouraged to live as the poor do, in what she describes as a "ministry of presence," which "communicates trust, solidarity, support, sharing of the difficulties and possibilities." For years, she lived in an adobe house with a thatched roof, using a bucket for a shower; when she was younger, she bicycled from town to town. At the C.P.T., she practices a form of Marxist-inspired pedagogy designed by Paulo Freire, a Brazilian philosopher. "Before you share your knowledge with people who don't know how to read, and reinforce that you're smarter or know more, the first thing is to get them to tell you about what they know, and what their experience is, and then you set up a relationship of exchanging, not dominance," she explained. Once, she noticed that a farmer seemed to have extra oranges; she confidently instructed him to sell them at the local market. "If I have too many oranges, I give them to people who don't have oranges. They're a free gift from God," he told her. This was a lesson for Bellini: she couldn't just tell people how to fix their problems.
Maybe, she thought, Douglas was right. Perhaps some of the farmers in Rio Preto da Eva had been hedging their bets with the government. If so, who could blame them? The endless community meetings that Bellini advocated might not protect them from having to move. In an e-mail, I asked her whether she was ever tempted to solve problems directly: in Terra Santa, for example, she might file the proper paperwork and speak to the right bureaucrats herself. Couldn't social revolution be brought about much more efficiently?
Brazilian history, she replied, "is replete with stories of well-intentioned people and organizations that came from outside the lived reality of the communities and groups they tried to help, using their experience in other lands and applying it to those with whom they shared some time together":
Some were disasters from the onset, others began well, but with time it became clear that the project was theirs, the whole process, from diagnosis to execution, and the people "served" received their intervention, sometimes gratefully, BUT the people continued to be needy and somewhat passive. And when the outsider left, the project died.
Her goal "isn't to make progress in the world," she concluded. It's to help people "grow more independent, better yet, interdependent."
A few years ago, when Bellini celebrated her fiftieth anniversary as a Sister, she put together a PowerPoint presentation to share with her order back in Rochester. She incorporated some quotes from the writings of Pierre Teilhard de Chardin, a French paleontologist and priest. Chardin believed that evolution was teleological: in order for us to rise toward what he called the "Omega Point," we must "converge." We do so, Chardin wrote, in part because of our "cosmic sense"—"the more or less confused affinity that binds us psychologically to the All which envelops us," and which "must have been born as soon as man found himself facing the forest, the sea and the stars."
Like Chardin, Bellini believes that convergence is a slow process. It takes time to bike, or even drive, around the Amazon; it requires patience to help people help one another and themselves rather than interceding directly on their behalf. "The trouble with liberation theology," Andrew Chesnut, a professor at Virginia Commonwealth University and an expert on Christianity in Brazil, told me, "is that, if you're trying to build a more Christian society, where we all treat each other as brothers and sisters, and we are equal, that is a long-term fucking project." Bellini's faith may be most evident in her patience.
Bellini is not naturally a patient person. As a child, she bossed around her six younger brothers and sisters on the Long Island duck farm where they grew up; at home in Goiânia, she sometimes cuts through the dirt inside the roundabout instead of circumnavigating it. In Manaus, the night before a meeting of C.P.T. officials which was to begin at 8 a.m., she sent me a WhatsApp message instructing me to meet her in my hotel's lobby at seven-thirty, so that we could share an Uber for the roughly ten-minute trip to the archdiocese. At six-forty-two the next morning, she messaged me an article about fires in the Amazon. At four past seven, she wrote, "See you in 25 minutes." At seven-thirty: "Good morning. I'm waiting in the reception area." At seven-thirty-one: "We should leave soon."
When I arrived in the lobby, she was waiting in a stiff chair, her phone in her hand, wearing hot-pink capris and a look of vague reproach, which quickly softened with concern about whether I'd had breakfast. We got in an Uber at seven-thirty-six and reached the archdiocese before the coffee had been brewed.
The auditorium where the meeting was held hummed with air-conditioning; onstage, her feet barely touching the ground, Bellini sat next to six men, including Schwade, two bishops, a priest, and a professor. Everyone wore jeans and T-shirts, so that farmers, indigenous leaders, and bishops were indistinguishable. When it was Bellini's turn to talk, she spoke evenly about the bureaucratic gaffes that can delay resolutions to land conflicts in the Amazon. The fact of the matter, she explained, is that, before anyone can even start trying to resolve a conflict, the C.P.T. needs to get all the different government agencies to sort out which one of them is responsible for it: different agencies cover different jurisdictions and categories of people. She was calm and matter-of-fact, and when her time was up she descended the stairs with the other panelists, sat down in the audience, and put on her glasses.
A new set of panelists, all from communities in conflict, walked onstage. Valdomiro Machado, from Terra Santa, was one of them. He wore a watch and a short-sleeved collared shirt, and was extremely thin—as he stood, the microphone in his hands resembled a barbell.
"I will speak for the state—the democratic state of law—because everyone must fight for it," Machado began. "Not only for their own rights but for the rights of the whole population."
Bellini fretted a little as she watched him. "He's just talking in general," she said to me, quietly. "He's not talking about Terra Santa." She wanted him to be specific, so that the state and federal officials, whom she'd been told were in the audience, would hear facts that they could use.
"What is missing in Brazil is the enforcement of the law," Machado went on, pacing the stage. He smiled from the side of his mouth, as if to let everyone know that it was O.K. to laugh at the cosmic joke of Brazilian democracy. Then, for ten minutes, he told the audience about Terra Santa. Bellini relaxed beside me. "No one wants to fight to defend the poor class," he concluded. "It is us who have to fight for it." Bellini applauded.
After a break for sliced watermelon and cake, a few government officials got up onstage. A young man from a state agency wore a pink button-down shirt and an expression of automated politeness. Schwade asked him what had become of a request for information that he'd filed; the official said that he had no idea.
"This guy is just a bureaucrat," Bellini whispered to me, loudly.
Another official, a heavily accessorized woman from the federal government, took the microphone. She looked up and down from her notebook as she responded, at length, to the panelists from places in conflict. Bellini regarded with curiosity this official with the facts.
"We'll see what she does," Bellini whispered. "She might talk and not do anything."
I'd asked Bellini if we could have lunch with Machado, so we walked to a buffet restaurant together, and Bellini translated for me. Machado came to panels like this all the time, he said. He went to meetings and hearings and conferences. But he still couldn't go home. Sometimes he wondered what the point was. He played a WhatsApp voice message he'd just received from Terra Santa, in which a neighbor explained that someone had just put sand down on Machado's old lot; it looked like a construction site.
After lunch, Bellini took an Uber back to the seminary where she was staying and, in the library, opened her laptop to compose an e-mail to Schwade and Souza, in Portuguese. She was pleased to have seen "a team spirit and practice, each assuming part of the whole, no one dominating, monopolizing conversations; rather, mutual action, help and respect," she wrote. "You have been encouraging others not to give up. Everyone learns, everyone teaches." Then she clicked send, opened Netflix, and watched fifteen minutes of a documentary about John Lennon before going to bed.
Two rivers meet outside Manaus. One, the Rio Negro, is dark, and the other, the Amazon, is pale. For almost four miles, the rivers run in parallel, without mixing. On Bellini's last day in Manaus, I asked her if she'd go see the meeting of the waters with me, and she said, "Sure!"—which is what she says to almost every proposal with which she's presented. We waited in my hotel lobby for a tour bus to collect us. The bus was late, and Bellini pointed out that the forecast was rainy. I apologized, but she shrugged. "If it doesn't work out, we'll just do something else," she said.
By the time the bus arrived, it was pouring. As we sat in traffic, Bellini talked about the first time she'd seen the Amazon River, in 1978. Before she could get on the boat, a thief stole her wallet. He dashed to a taxi, wallet in hand; as he sped off, she ran after him. As he drove away, the thief threw the wallet, intact, out the window—a mysterious choice, Bellini thought, because he was getting away with it, and a choice that she describes not as God's will but as happenstance. She is a great believer in happenstance. She wants to be buried in whatever town she's in when she dies.
In 2005, Dorothy Stang, a nun from Ohio who had advocated on behalf of Brazilian farmers since the sixties, was shot six times while working in the Amazon. In the nineteen-nineties, Bellini and her roommate, Sister Joana Mendes, were at home by themselves when a man employed by a rancher knocked on their back door. He told Bellini that she'd better stop it with the squatters, or else. Bellini stepped out onto the porch and looked up at him. "We are doing our work," she told him. "You can do yours." Bellini told him to go home, and he did.
It was not Bellini but Mendes who told me that story; it was also Mendes who told me about how, decades ago, when she was eleven years old, Bellini had turned up in her village—an anti-capitalist nun in shorts, on a bike. "Her presence was remarkable for everyone who met her," Mendes said. Mendes had moved with her family to the village a few years earlier, after her father, a farmer, started having epileptic episodes, forcing them to give up their farm. When Mendes turned eighteen, she joined the Sisters of St. Joseph of Rochester as part of the congregation's first group of Brazilian Sisters; she now accompanies the public-health council in Goiânia, helping the poor get access to chemotherapy and other medical care.
When I had asked Bellini if she could tell me about anyone in particular whom she had helped in Brazil, she asked if she could think about it. When we got off the bus at the docks, on our way to see the rivers, and were standing around under an umbrella waiting for instructions, I asked her again. "Well," she said tentatively, "there was this one couple. . . ." Then a tattooed tour guide put paper bracelets on our wrists and took Bellini's hand to help her down the wet plank to the boat. We boarded, and fell into conversation with the tour operator, who wanted to know if Bellini was my grandmother. Bellini didn't revisit the question of whom she'd helped; I didn't, either. She can't easily describe what she's accomplished in Brazil because she doesn't think about accomplishments as specific, discernible results flowing from one's efforts. "What were the moments that God helped a situation move along?" she'd asked, earlier. "It's not cause and effect. It's not linear."
Bellini chose a seat toward the back. For thirty minutes, we floated down the Rio Negro, passing ports piled with orange shipping containers. The rain stopped, and, on our right, the Amazon River appeared, mushroom-colored. Bellini put her head out the window. She wanted to see more clearly where the rivers might merge.