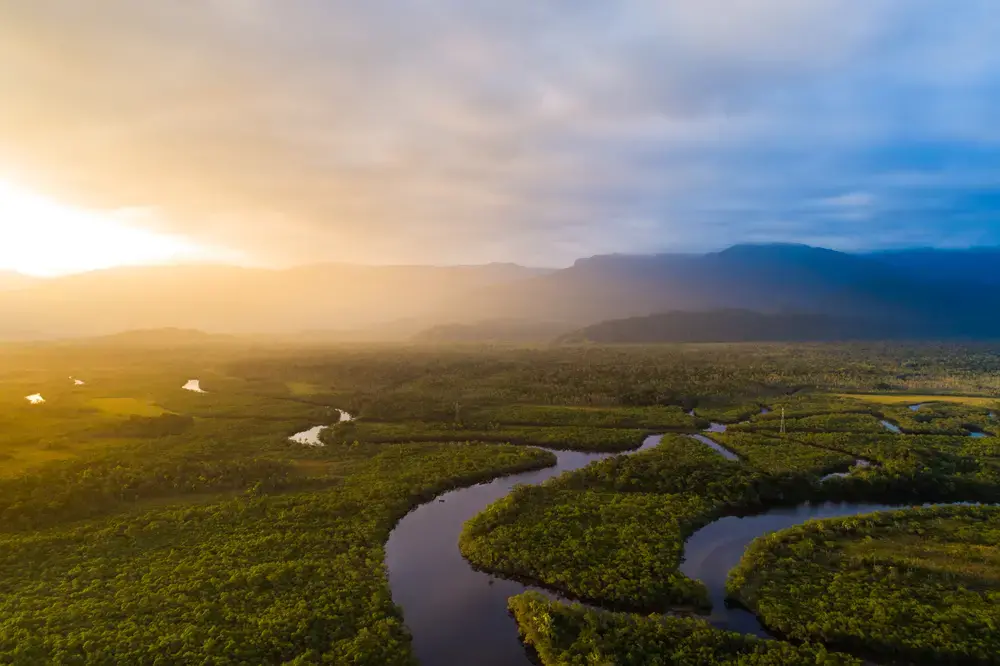 A farmer named Deuzimar Fernandes da Costa comes home sweaty, machete in hand. Over the cassava fields behind his house, warm air from the Amazon mixes with red dust from a dirt road that passes through the municipality of Oriximiná. Cars travel the road carefully to avoid potholes. "Life here is going between difficult work and home, then from home going back to work." But words full of promise coming from the other side of the Amazon river make Costa dream—a paved BR-163 is on its way. "With BR comes electricity, industry, so this difficult way of living would end." The driver who leaves Costa's house can't go much farther north. Soon, he comes across a forested massif, which stretches past what the eye can see. From that point onwards, BR's words of promise become a nightmare. "We are going to run the risk of having our territory, our forest, invaded," says Gervásio dos Santos Oliveira, coordinator of the Quilombosdo Ariramba Community Association (ACORCA), while cleaning fish freshly caught in the Cuminá River.
Click here to read the full story in Portuguese.
Oagricultor Deuzimar Fernandes da Costa chega em casa suado, com o facão na mão. Na roça de mandioca nos fundos da moradia, o ar quente da Amazônia se mistura com a poeira vermelha da estrada de terra que passa no município de Oriximiná. Os automóveis trafegam com cuidado para desviar dos buracos. "A vida aqui é do pesado para casa, de casa para o pesado", explicou. Mas uma promessa vinda do outro lado do Rio Amazonas faz Costa sonhar: a chegada da BR-163, asfaltada. "Com a BR ia vir energia elétrica, indústria, daí esse serviço pesado parava." O motorista que sai da casa de Costa rumo ao Norte não consegue ir muito adiante. Logo se depara com um maciço de floresta, que se estende a perder de vista. Dali para dentro, a promessa da BR vira pesadelo. "A gente vai correr o risco de invadirem nosso território, nossa floresta", afirmou Gervásio dos Santos Oliveira, coordenador da Associação da Comunidade de Remanescentes de Quilombos do Ariramba (Acorqa), enquanto limpava o peixe fresco, recém-pescado no Rio Cuminá.
Do outro lado do Rio Amazonas, o presidente Jair Bolsonaro se prepara para inaugurar nesta sexta-feira (14) o asfaltamento de mais 51 km da BR-163. Pela primeira vez desde que foi inaugurada pelo general Ernesto Geisel, em 1976, o trecho que liga Cuiabá, no Mato Grosso, até o porto de Miritituba, no Pará, está totalmente pavimentado. "Em respeito ao compromisso que assumimos com caminhoneiros, produtores e cidadãos que aguardam há 45 anos por este dia, comunicamos a conclusão da pavimentação da BR-163 até Miritituba/PA", comemorou o presidente no Twitter nesta terça-feira. Segundo o Departamento Nacional de Infraestrutura de Transportes (Dnit),  faltam mais 57 km do trecho entre Miritituba e Santarém para que toda a BR-163 no Pará esteja pavimentada