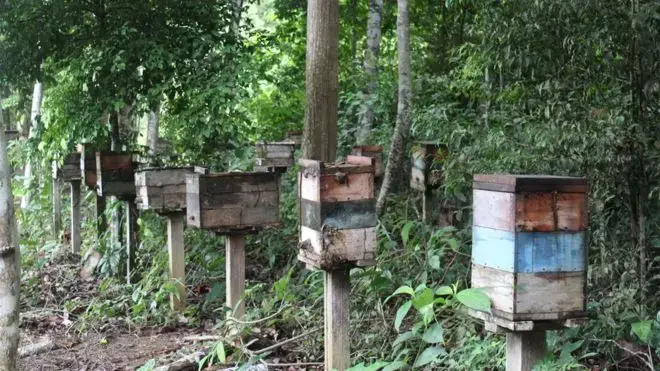 Surrounded by soybean plantations on all sides, Chácara João do Mel, in Belterra, western Pará, is like an island of biodiversity that has been carved out of the original Amazon landscape by deforestation as far as the eye can see.
Despite the island of ecological resistance, the small oasis belonging to João Batista Ferreira has been suffering from side effects of the large-scale monoculture model that relies heavily on pesticides. There are many socio-environmental impacts associated with the extermination of bees. One of these is the economic infeasibility of honey production, a typical activity in the Metropolitan Region Santarém, about 724 km from Belém.
At 59, Ferreira is having to change career paths—something he had never imagined after transforming his beekeeping hobby, which he started as a teenager, into a successful meliponiculture (cultivation of native stingless bees) business. He had even earned the name "João do Mel" (Honey João), as he is known throughout the region.
To view the full version of this story in Portuguese, click here.
Cercada de plantios de soja por todos os lados, a Chácara João do Mel, em Belterra, no oeste do Pará, é como uma ilha de biodiversidade que ainda reflete a natureza amazônica em um cenário formado por áreas desmatadas a perder de vista.
Apesar da expressão de resistência ecológica, o pequeno oásis pertencente a João Batista Ferreira já sofre os efeitos do modelo de monocultura regada a agrotóxicos em larga escala. Esse e outros impactos socioambientais têm sido cada vez mais associados ao extermínio de abelhas e, consequentemente, à inviabilidade da produção de mel como atividade econômica desse município que integra a Região Metropolitana de Santarém, a 724 km de Belém.
Aos 59 anos, Ferreira passa por uma mudança de rumo profissional jamais imaginada para quem transformou um hobby, aprimorado desde a adolescência, em um bem-sucedido negócio de meliponicultura (cultivo de abelhas nativas sem ferrão) que o tornou conhecido regionalmente como João do Mel.