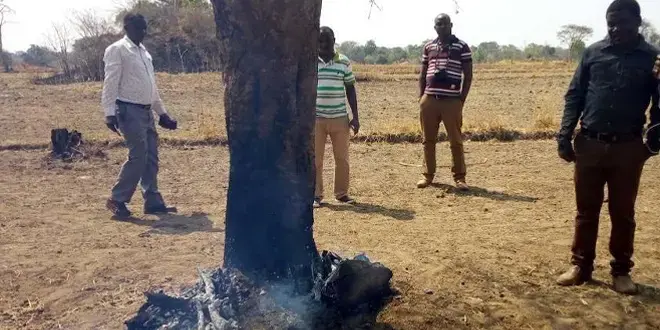 An increase in deforestation, agriculture, charcoal burning and pastoralism in Tabora region, especially in Urambo and Kaliua, has contributed to the extinction of the "deforested" miombo forests, and has been a driver of severe rainfall declines to below the level of decades ago.
Due to the drought there is a risk of Urambo and Kaliua districts becoming a desert, despite several efforts by stakeholders to control the situation.
Deforestation activities to prepare fields and tobacco drying, wood processing, charcoal burning, which is an alternative energy source for electricity, and gas are contributing to the disappearance of miombo trees.
---
Ongezeko la ukataji miti, kilimo, kuchoma mkaa na ufugaji mkoani Tabora hususani Urambo na Kaliua, limechangia kutoweka misitu ya miombo yenye 'lindimaji,' na kuwa chanzo cha kushuka mno kiwango cha mvua hadi kuwa chini ya wastani uliokuwapo miongo kadhaa iliyopita.
Kutokana na ukame kuna hatari wilaya za Urambo na Kaliua kuwa jangwa, licha ya jitihada kadhaa zinazofanywa na wadau kuidhibiti hali hiyo.
Shughuli za kukata miti ili kuandaa mashamba na kukausha tumbaku, kuchakata mbao, kuchoma mkaa ambao ni nishati mbadala wa umeme na gesi zinachangia kutoweka miti miombo.
To read the full article in Swahili, click here.