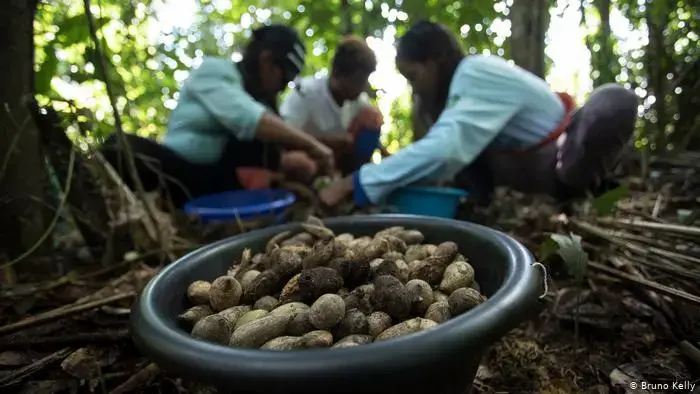 Machines installed in a newly-built processing plant operating under Maria José Pinto Costa's command are ready to run. The end of Amazon rains ushers the beginning of production season—but in the midst of the new coronavirus pandemic, the process will need adaptation.
Andiroba and murumuru come from the forest, and under the command of Zefa (as Maris José is called), are transformed into a valuable oil sold to the cosmetics industry. The bags of seeds come from the Extractive Reserve (in Brazil, known as Resex) Médio Juruá, Amazonas, almost three hours by single engine plane from the state capital, Manaus.
To read the full story in Portuguese, click here.
No novo galpão, as máquinas na usina recém-instalada sob o comando Maria José Pinto Costa estão prontas para rodar. O fim das chuvas na Amazônia anuncia o início da produção, que, devido à pandemia do novo coronavírus, precisou de adaptação.
É da mata que vem a andiroba e o murumuru, que, sob o comando de Zefa, como Maria José é chamada, são transformados num óleo valioso vendido para a indústria de cosméticos. As sacas de sementes vêm da Reserva Extrativista (Resex) Médio Juruá, no Amazonas, a quase três horas de avião monomotor da capital Manaus.