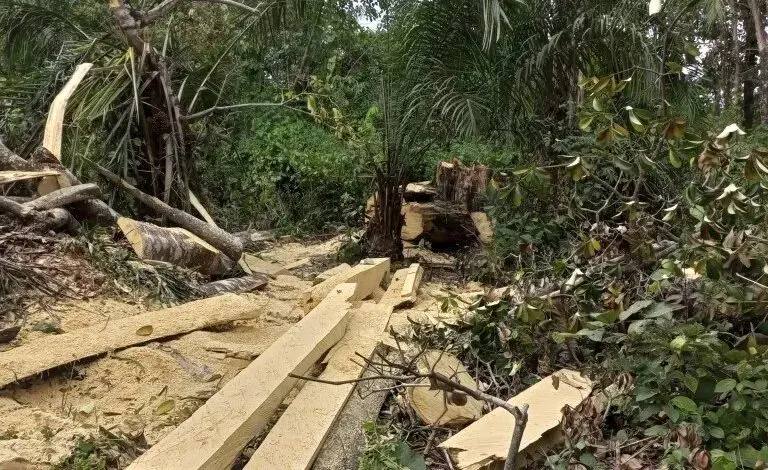 In the Cross River State rainforest, an average of 250 tons of timber is harvested daily; in 10 days, 2,500 tons are lost, and within a year, 91,250 tons of timber leave the state. As a result of deforestation, small trees and other forest products are destroyed.
Because illegal logging impacts the local economy for women and results in the loss of forest products and medicinal plants, the Banyiyi Boki women's association speaks out against illegal loggers destroying the Cross River rainforest.
Mrs Theresa Abang, a business owner, lamented how illegal loggers spoil their crops in the name of money. She says, "They cut down the trees which destroy the yams and the crops; spoil cocoa, plantain, bananas and anything planted. If loggers enter our farms, they will destroy the yams; instead of thanking the farm owner, they are fighting with the farmers."
Illegal loggers stack wood along the road and cover it with grass, trying to hide their illegal activity. But the communities located in the forests have been massively dislocated, and their landmass completely eroded, leading to enormous environmental challenges with long-term consequences.
Mrs Stella Dibang, a farmer, says women in Boki do not have a say because when they comment on illegal logging, they will say that she is only a woman. So, women don't have the power to stop it, only men can stop it. She said that when the women stood up against illegal logging, they went to the chief, and he told them to wait.
"Now he has nothing to do; that's why they are waiting for the chief's decision," Mrs Stella admits.
The forest is rapidly depleting; unfortunately, state government policies over the past 14 years have weakened their relationship with the forest and their ability to remain protected. But Boki's Supreme Leader, His Royal Highness Ata Otu Fredaline Akandu, was able to halt illegal logging in the Olom community and the nearby Afi Mountain Reserve, thanks to active engagement with his chiefs.
In Boki, there are many endangered species, such as gorillas, drill monkeys, chimpanzees and others in the mountains. "So I called a meeting in my community and ordered that there be no more logging. The council of chiefs agreed, and we said that any chief who accepts a logger in this community is fined N500,000," HRH Otu says.
The forest is rapidly depleted; unfortunately, the state government's policies in the last 14 years have weakened its relationship with the forest and its capacity to remain its protector.