Event Zoom Webinar

Using Data in Environmental Investigations
Event Date:
September 18, 2020 | 9:00 AM WAT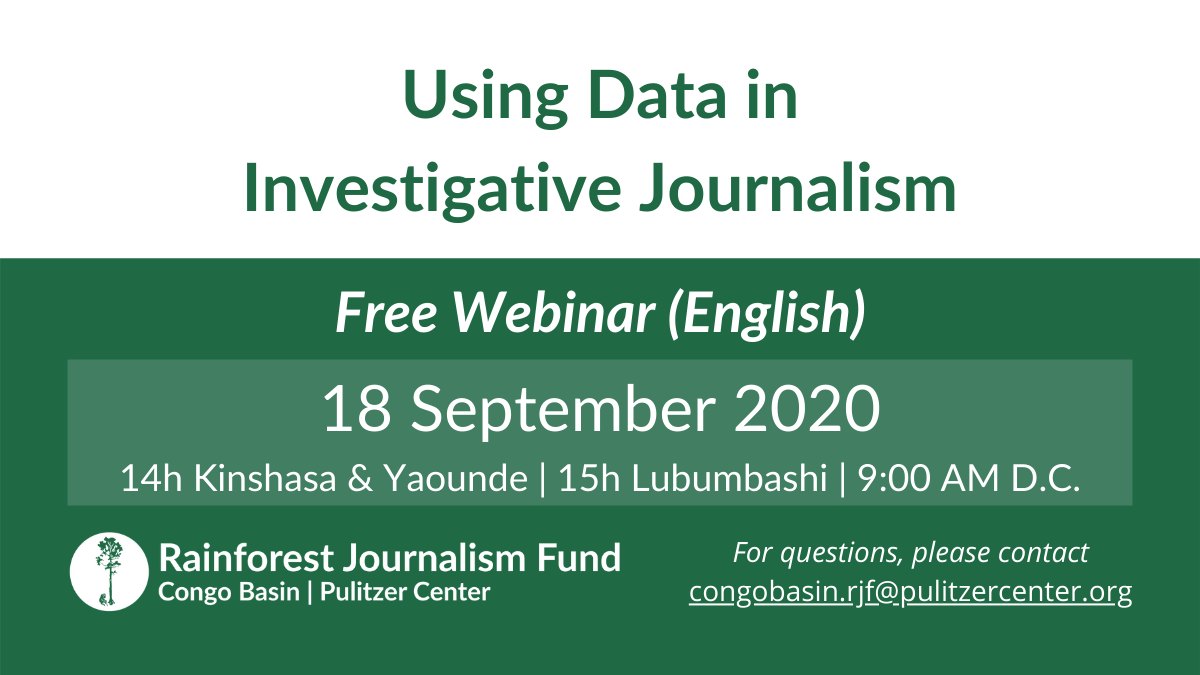 Turning data into information, as the basement of the story production process, remains essential for any professional journalist planning to cover a story related to the environment and natural resource management in the Congo Basin in particular.
Analyzing and understanding data related to the environment and the management of the Congo Basin — using figures to help the public decipher ongoing conservation efforts — remains a major challenge, but there is a prerogative to rely on open data.
If today's data journalism is based on the public availability of open data, there are limits. The open data available today on dedicated portals and platforms responds poorly to the needs of data journalists in illustrating the current reality within the Congo Basin. This webinar will address the following questions:
What is the best method for obtaining and retrieving open data on the Congo Basin?
How can this data be reused and re-contextualized by journalists?
How can this data be used to create high value-added content to illustrate ongoing conservation efforts in the Congo Basin?
The Rainforest Journalism Fund —Congo Basin and the Pulitzer Center are continuing with a series of free webinars for journalists reporting from the greater Congo Basin. This second webinar will bring together experienced journalists to share their thoughts on the use of data in investigative journalism.
This workshop will be held in English and is opened to all journalists, but is specifically designed for journalists with experience or interest in covering environmental issues in the Congo Basin region. If you have any questions, please contact [email protected].
Objectives:
Introduce and reinforce the added value of data in environmental reporting in the greater Congo Basin.
Equip journalists working in the environmental sector with skills that can improve the quality of their work and make it understandable to the general public.
Have journalists integrate more data into environmental reporting at the Congo Basin level.
Agenda overview:
Welcome and Introduction to RJF process
Use of data in Environmental Investigations and Journalism (David Akana)
How open data can contribute to quality reporting on environmental management in the Congo Basin (Aimable Twahirwa)
Presenters:
David Akana (media trainer)
Aimable Twahirwa (science journalist based in Kigali, Rwanda)
To register for the event, please click here!