Because of security concerns, Amazônia Real journalists Maria Alves, Amanda Lima, and Mário Rodrigues are publishing under pseudonyms.
This story excerpt was translated from Portuguese. To read the original story in full, visit Amazônia Real. You may also view the original story on the Rainforest Journalism Fund website here. Our website is available in English, Spanish, bahasa Indonesia, French, and Portuguese.
---
Santarém (PA) — "This street here, I created it. All of it. I hired five guys and they opened it with their manual tools," reveals Alexandre Mendonça Silva unceremoniously, pointing to a 10-meter-wide extension that extends for one kilometer. The destruction occurred in November 2021, in the vicinity of a road that connects the Ponta de Pedras beach to the PA-457 state highway. The young man from Santarém had just started working as an informal broker, but his business was already booming.
On both sides of the branch, numbered plaques marked the division of 82 plots of 40 by 12 meters that Silva was selling for 4 thousand Reais each — payable through a 300 Reais down payment and 250 Reais installments. According to the plan the realtor showed, most of Loteamento Cajual had already been sold. In another branch opened further ahead on the road to the beach, and cut by the same amount of lots, the values were higher: between 6 thousand and 8 thousand Reais.
In order to unveil land grabs in Alter do Chão, the Amazônia Real team simulated interest in buying a plot of land, just like any other client. The area in question, known as Cappadocia, is within the Environmental Protection Area (APA) Alter do Chão and is composed of Union lands. Most of them are part of the Agro-extractive Settlement Project (PAE) Eixo Forte.
Many buyers come from far away: "I have sold to Santa Catarina, Rio Grande do Sul, even to French people," says the realtor Alexandre Mendonça Silva. According to him, the interested parties say they are going to build summer houses or inns. In the best salesman style, he warned that the price of the lots offered was "promotional," and would soon increase, since demand only grew.
"When the asphalt goes through, it's going to increase in value. They will also want to build the Ponta de Pedras waterfront. The electric power will already be installed here on the road, and then you just have to get together with other lot owners and ask the concessionaire. They are obliged by law to provide it when they have forty installation requests," he teaches.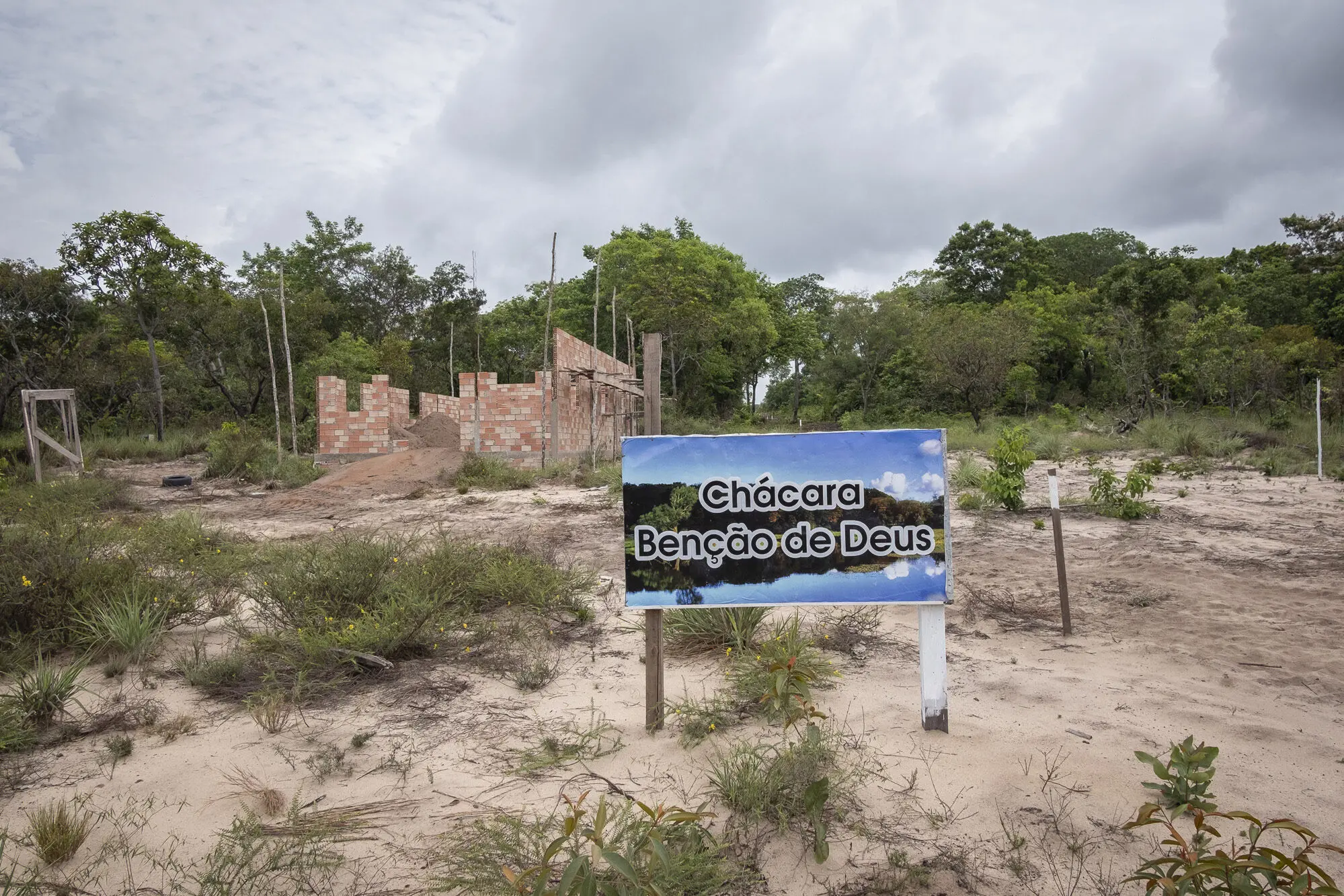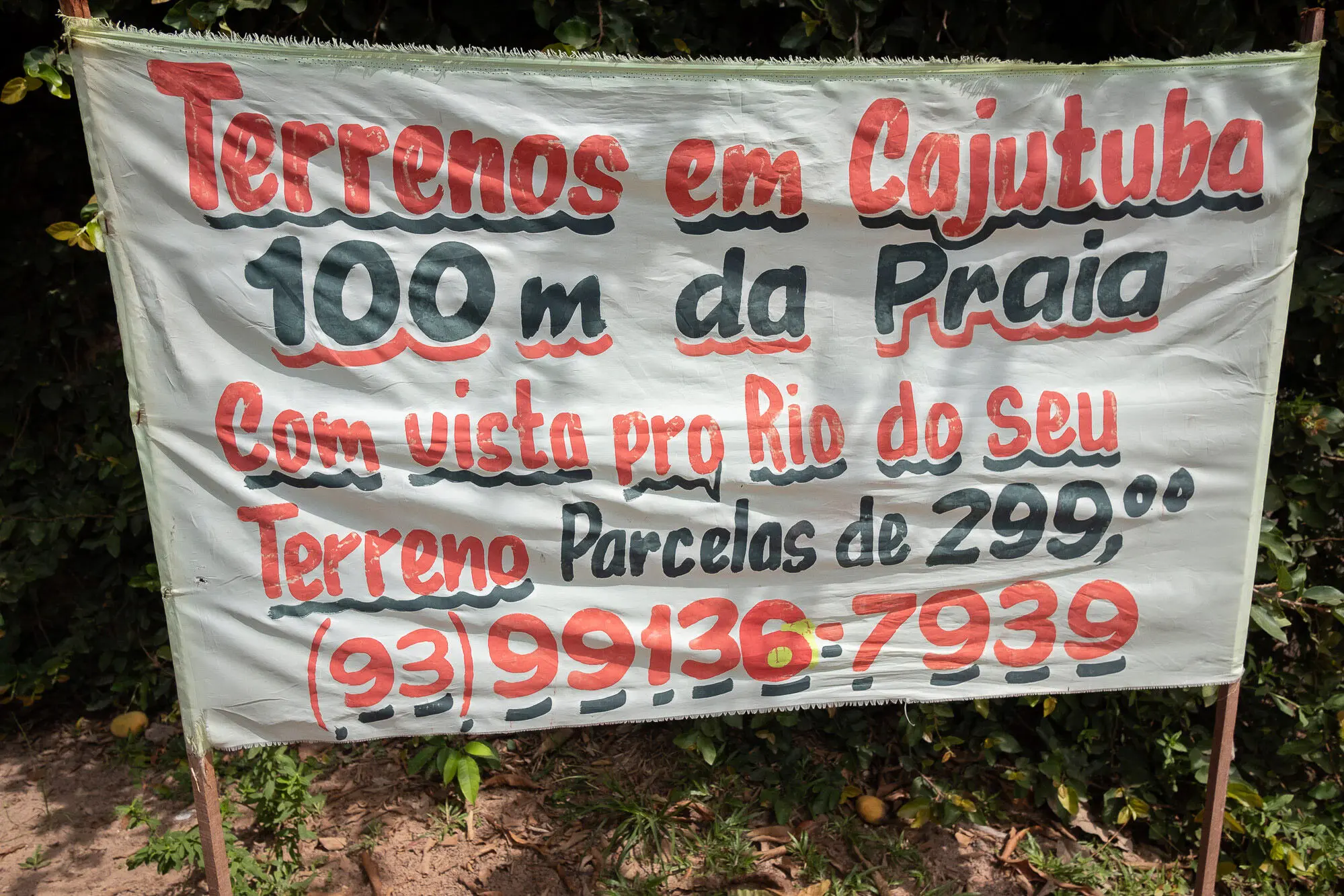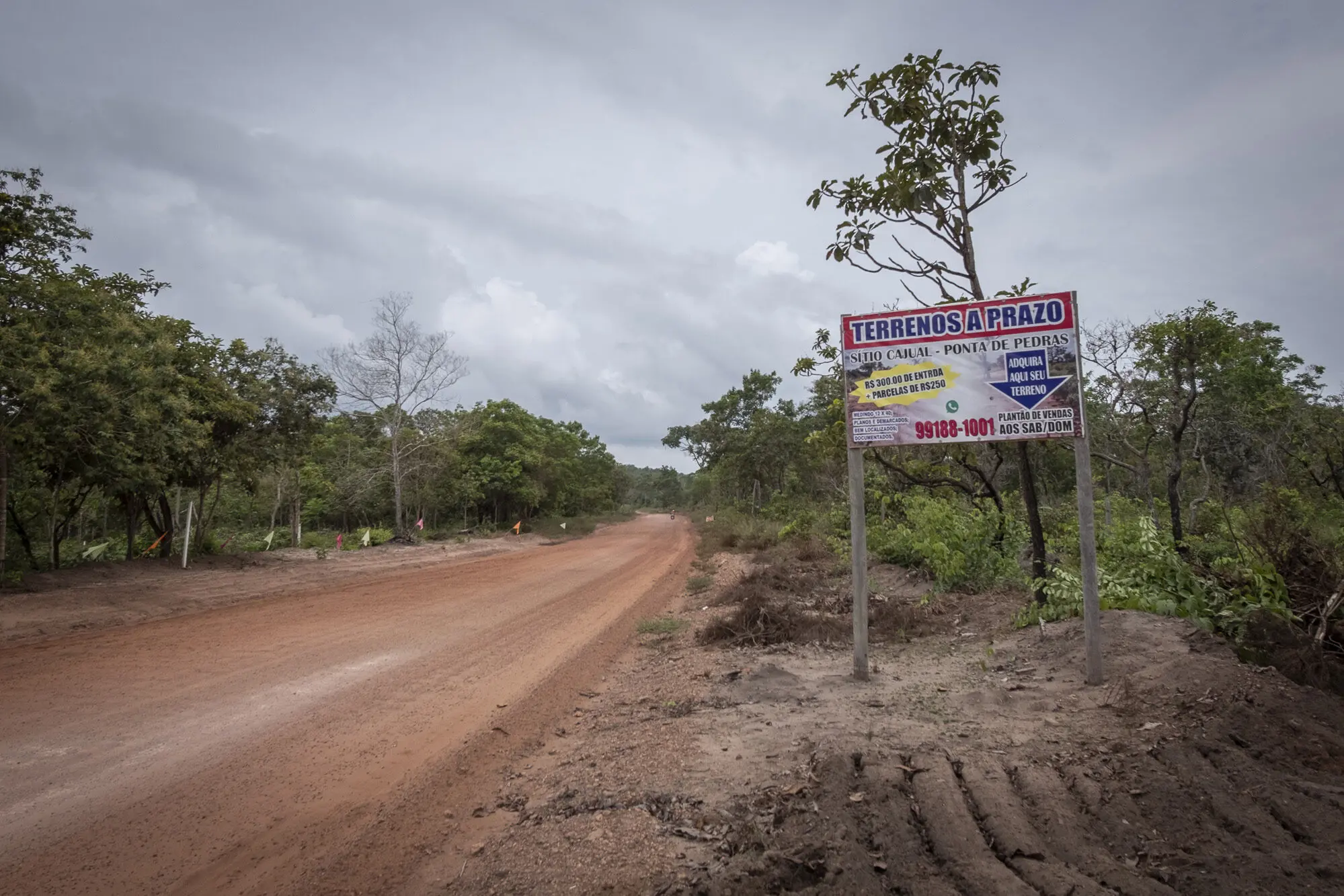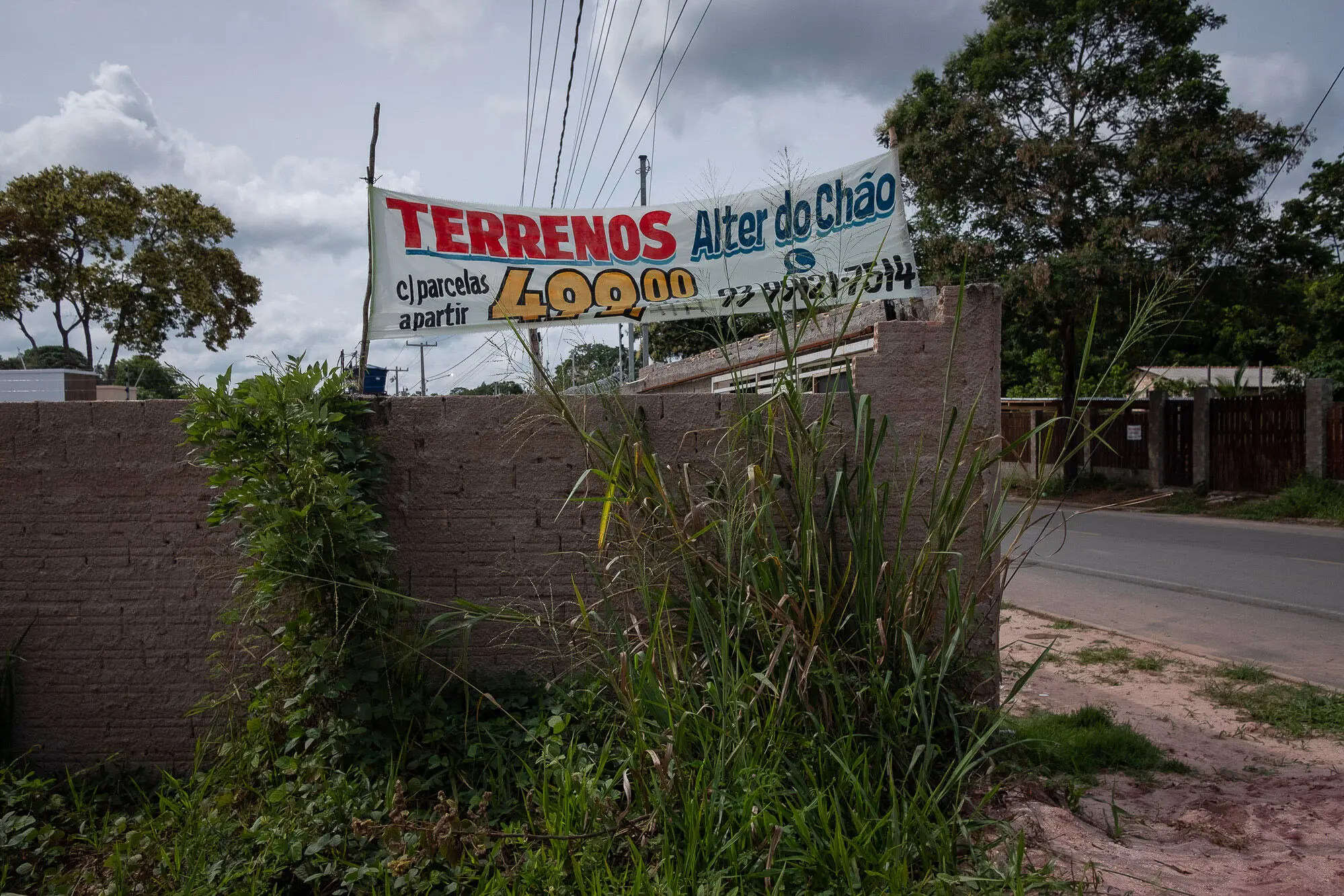 Signs of real estate speculation in Alter do Chão. Images by Mário Rodrigues for Amazônia Real. Brazil, 2022.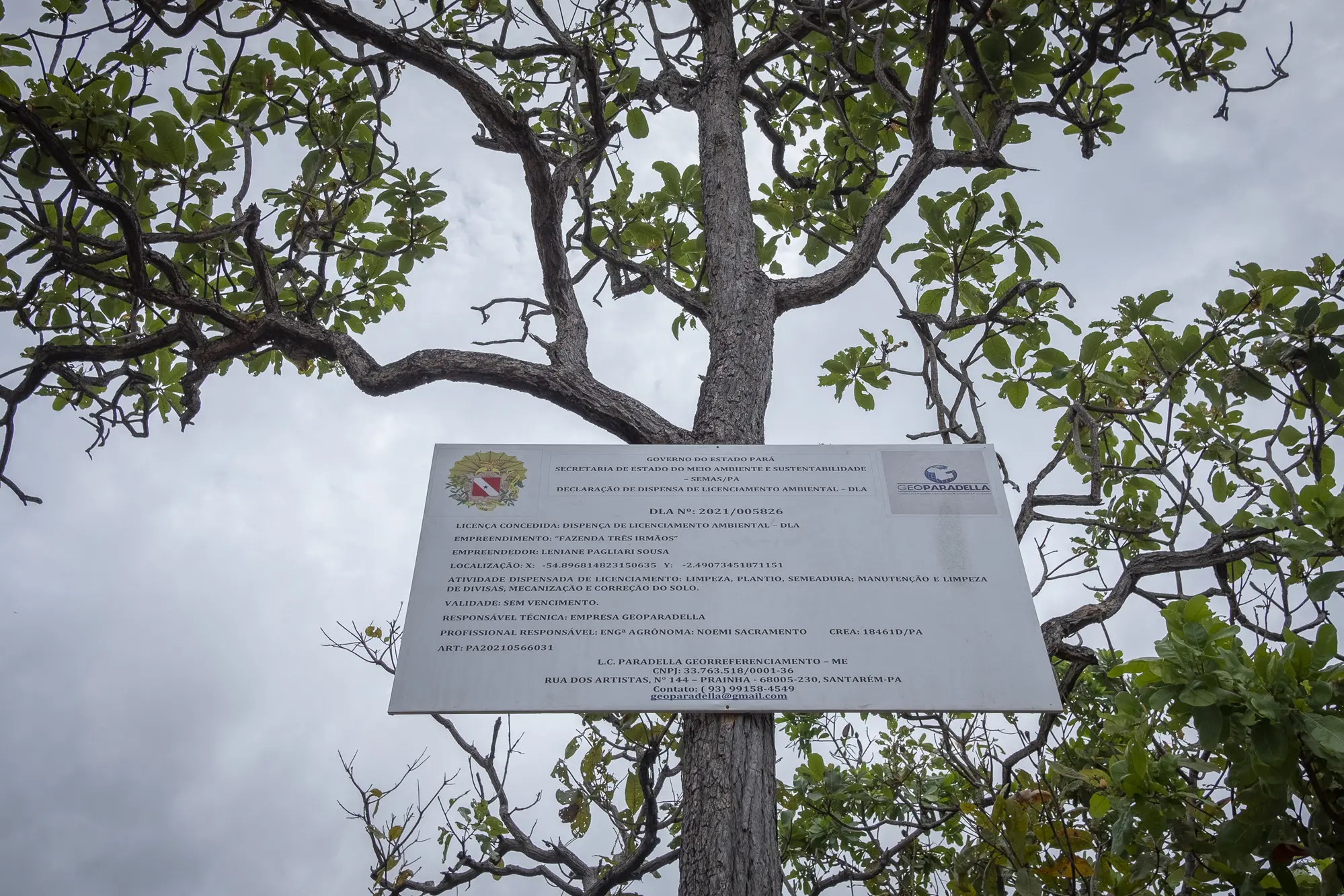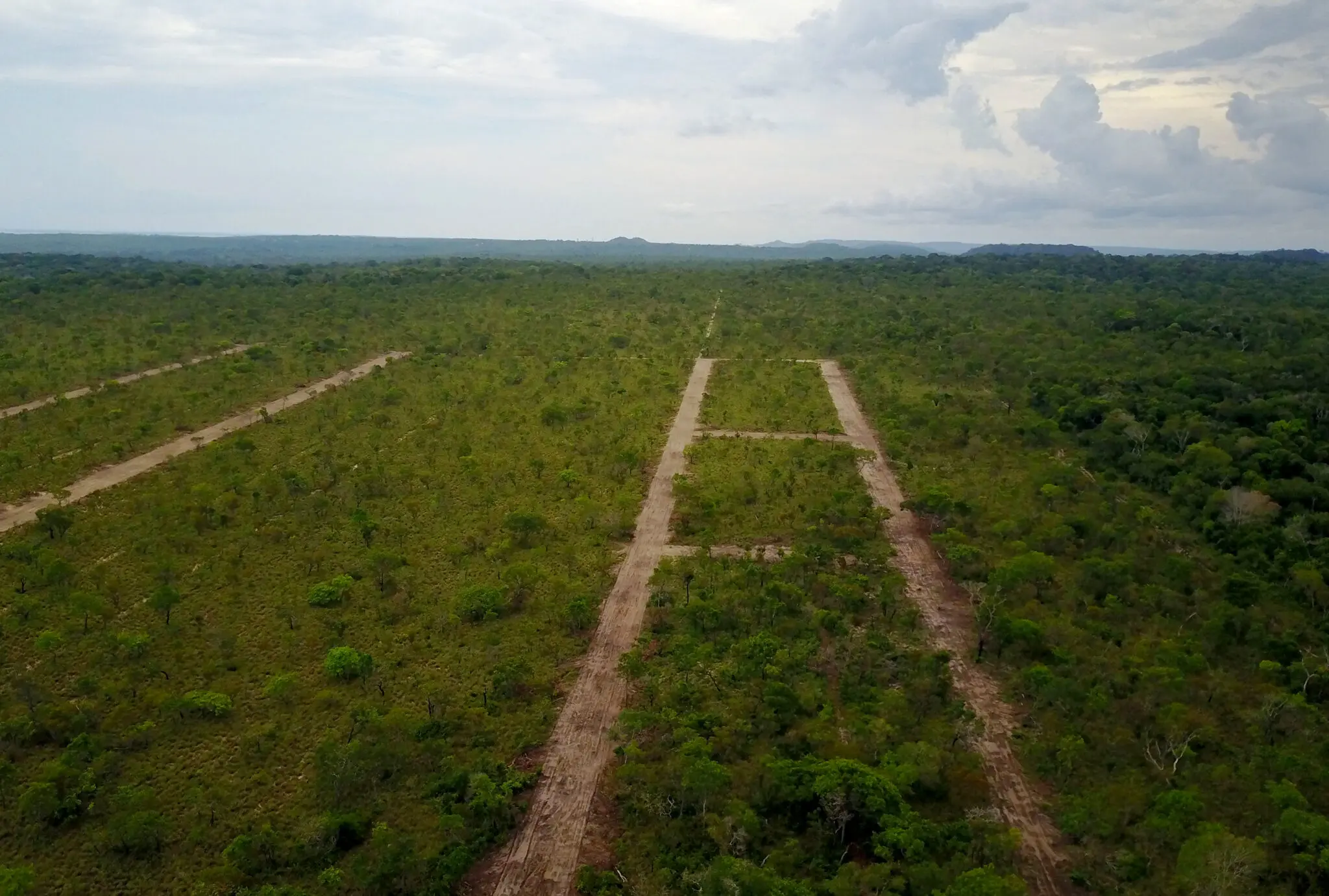 ---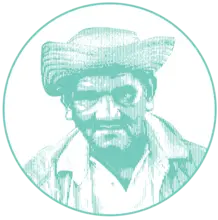 As a nonprofit journalism organization, we depend on your support to fund journalism covering underreported issues around the world. Donate any amount today to become a Pulitzer Center Champion and receive exclusive benefits!
---