In the Peruvian Amazon, spirits have roots and trunks that are as strong as the heaviest metal. A journalist goes deep into the forest to meet the shihuahuaco, a brown giant of the jungle that has seen the birth and death of all the fauna and flora of its territory. Now, these trees are threatened by the roar of chainsaws and the worldwide demand for their hardy wood.
---
The wood of the shihuahuaco (of the genus dipteryx) is so hard that in the international market it is known as "ironwood" because it is as strong as steel. There is no tree that resembles it. It grows firm and leafy, clinging powerfully to the soil of the Amazon rainforest with roots that extend like curtains several meters above the ground. It can live for more than a millennium; on average, a tree 150 cm in diameter is about 1260 years old and can reach more than 40 meters in height. It was already standing when the Vikings conquered Greenland and centuries before the rise of the Inca Empire and the discovery of America. This longevity is crucial for scientists studying the forest because it describes it through the centuries.
The shihuahuaco is clearly not just any tree. There are no termites to bite it and its trunk is grayish-brown to deep yellowish-brown. Its density is 0.87-0.92 g/cm³. Only the odorata from Brazil surpasses it in density with 0.92 g/cm³, because in Brazil everything is drier and, therefore, harder. The woods that float, as Hollywood has shown romantically in all those movies about lumberjacks in the temperate forests of North America, can be easily transported through territories where rivers abound, but that way is closed to the shihuahuaco, whose wood, due to its weight, would sink hopelessly to the riverbed. This would imply that in order to take those gigantic trunks out of the forest, it would be necessary to open wide roads through which large trucks could pass.
---
As a nonprofit journalism organization, we depend on your support to fund journalism covering underreported issues around the world. Donate any amount today to become a Pulitzer Center Champion and receive exclusive benefits!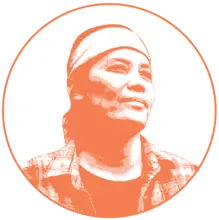 ---
Inside that Amazon forest everything is alive and interconnected in a complex system of organisms that have evolved together. That's why it's impossible to mimic the natural forest structure and diversity; it means there are epiphytes and legumes, productive palms, ferns, and other diverse flora that attract pollinators and get along with wildlife. And that is why moss and lichens love to perch on the old, rough bark of the shihuahuaco, on the flakes that peel off, leaving imprinted traces.