This is the second part of a series on the Guguk Indigenous Forest: A Hope for the Future of Sumatra's Remaining Rainforests. Read the first part here: An Indigenous, Sustainable Forest (bahasa Indonesia).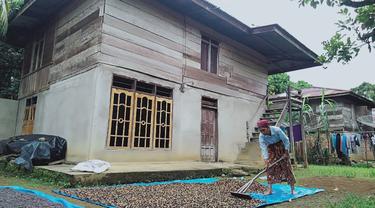 Liputan6.com, Jambi - Walking through an old village called Dusun Guguk in Guguk Village, Renah Pembarap District, Merangin Regency, Jambi, is like retracing the traces of a past life. In the village, traditional stilt houses of various shapes still stand firmly crammed between the village roads.
The bottom of the house on stilts is used as a kitchen, as well as to store firewood and garden produce. However, there are parts of the house on stilts that have been modified for residence.
Towards the morning in this village, people have started to be busy with their respective activities. There are gentlemen who started to go to the garden. There are also those who approach the boat on the riverbank to try to earn a fortune from looking for river stones in the Batang Merangin river.
---
The story excerpt above was translated from bahasa Indonesia. To read the original story in full, visit Liputan6. You may also read the story in bahasa Indonesia on the Rainforest Journalism Fund website here. Our website is available in English, Spanish, bahasa Indonesia, French, and Portuguese.