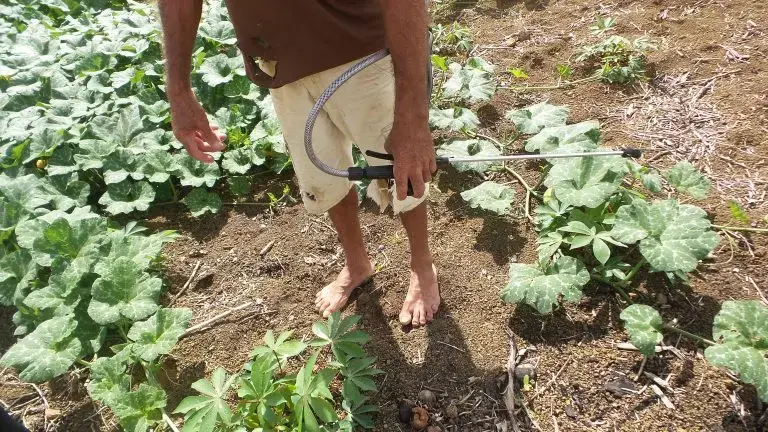 In the wake of expanding agribusiness over two decades and expanding soy plantations creeping closer to rural and urban communities, controlling pesticide use in Santarém faces two key challenges. Cases of intoxication due to contact with these chemical substances are underreported, and there is a lack of information. These challenges tend to increase the socio-environmental risks caused both by the inappropriate handling and application of toxic products in the fields of Belterra, Mojuí dos Campos, and Santarém, municipalities that are part of the western region of Pará.
This landscape is summarized by Gracivane Moura, a leader who has sought answers to the challenges faced by the most vulnerable populations on these three municipalities. Gracivane is president of the Municipal Health Council of Satarém, Secretary of Social Policies of the Union of Rural Workers of Santarém, as well as Secretary of the Regional Forum to Combat the Use of Pesticides in the Lower Amazon. This is part of a social movement, started in 2017, which brings together researchers and representatives of civil society with an interest in the debate and in the search for solutions to the pesticide problem.
To view the full article, visit Le Monde Diplomatique Brasil's website.
Frente à expansão do agronegócio, nas últimas duas décadas, e à proximidade cada vez maior entre as plantações de soja e as comunidades rurais e urbanas, o controle do uso de agrotóxicos na Região Metropolitana de Santarém enfrenta dois grandes desafios. A subnotificação de casos de intoxicação por contato com essas substâncias químicas e a desinformação que tende a ampliar os riscos socioambientais causados tanto pela manipulação como pela aplicação inadequadas de produtos tóxicos nas lavouras de Belterra, Mojuí dos Campos e Santarém, municípios integrantes dessa região do oeste paraense. 
O panorama é sintetizado por Gracivane Moura, liderança que tem buscado respostas para esses dilemas enfrentados pelas populações mais vulneráveis em três frentes de atuação na região. Como presidente do Conselho Municipal de Saúde de Santarém, secretária de Políticas Sociais do Sindicato dos Trabalhadores e Trabalhadoras Rurais de Santarém, além de secretária do Fórum Regional de Combate ao Uso de Agrotóxicos do Baixo Amazonas. Esse é um movimento de articulação social, criado em 2017, que reúne pesquisadores e representações da sociedade civil com interesse no debate e na busca de soluções para o problema.