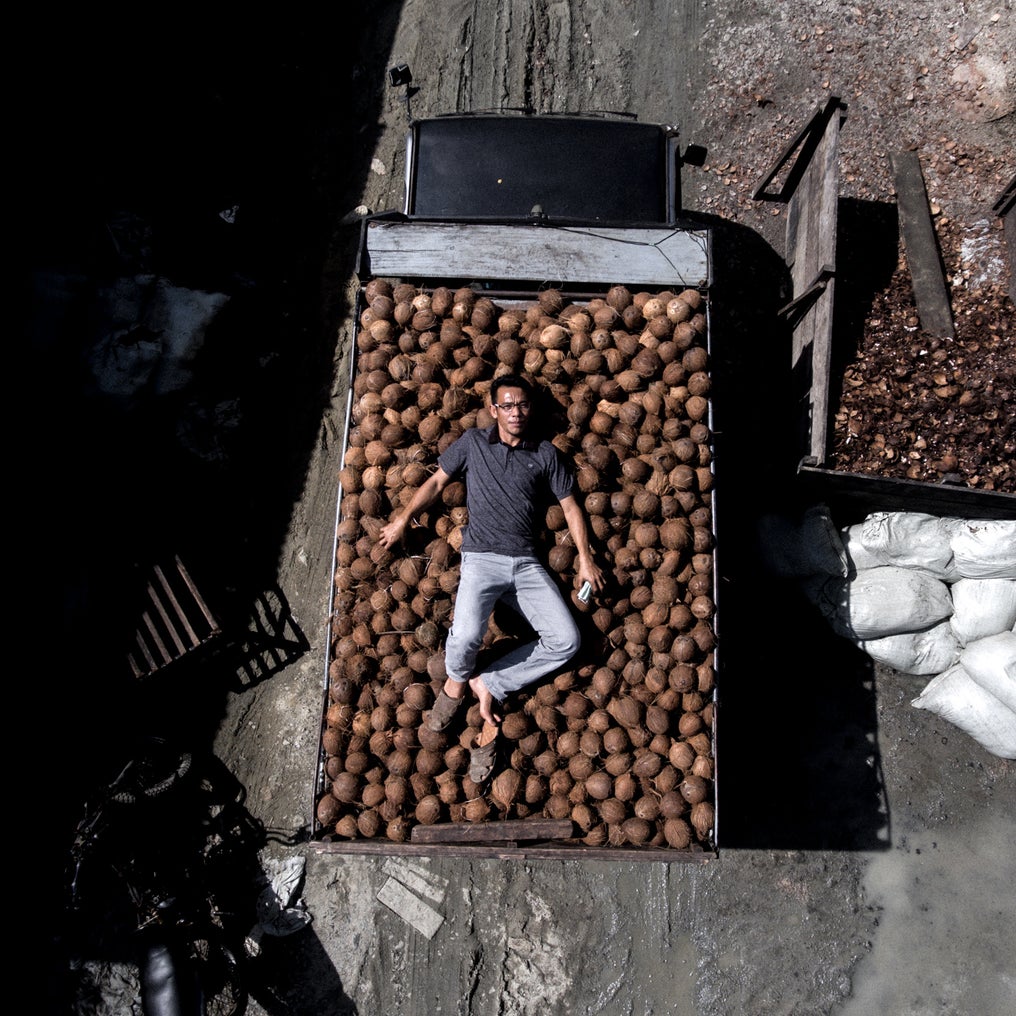 Image by Jervis Gonzales. Philippines, undated.
In the West, coconuts are hot. Go to any trendy health food store or restaurant in London, San Francisco or New York, and you'll find organic raw coconut water and vegan ice cream made with coconut products. The coconut is seen as a healthy, environmentally friendly alternative to palm oil, a common ingredient in everything from shampoos to cookies and frozen desserts.
Yet for 29-year-old Ricky Veraya, a coconut farmer in the northern Philippines island of Luzon, that boom in interest has a bitter taste; his income has shrunk by half over the past five years. Veraya painstakingly chops up hundreds of coconuts every day and heats them over an open, outdoor fire, sweating profusely and breathing in smoke. But he makes only 15 Philippine pesos, or 40 cents, for the hours-long work it takes to produce a kilo of copra, the dried kernel of the fruit from which coconut oil is extracted. His hairline is receding, and his dreams are fading: Veraya is unable to save enough to replace tin sheets with a permanent roof for his two-room home in the municipality of General Nakar, where he, his wife and their two young children live without electricity or running water.
"It's hard ... when you see how much work we put in, but we only get paid so little," Veraya says. "That's what most farmers are crying about, the low prices of coconuts."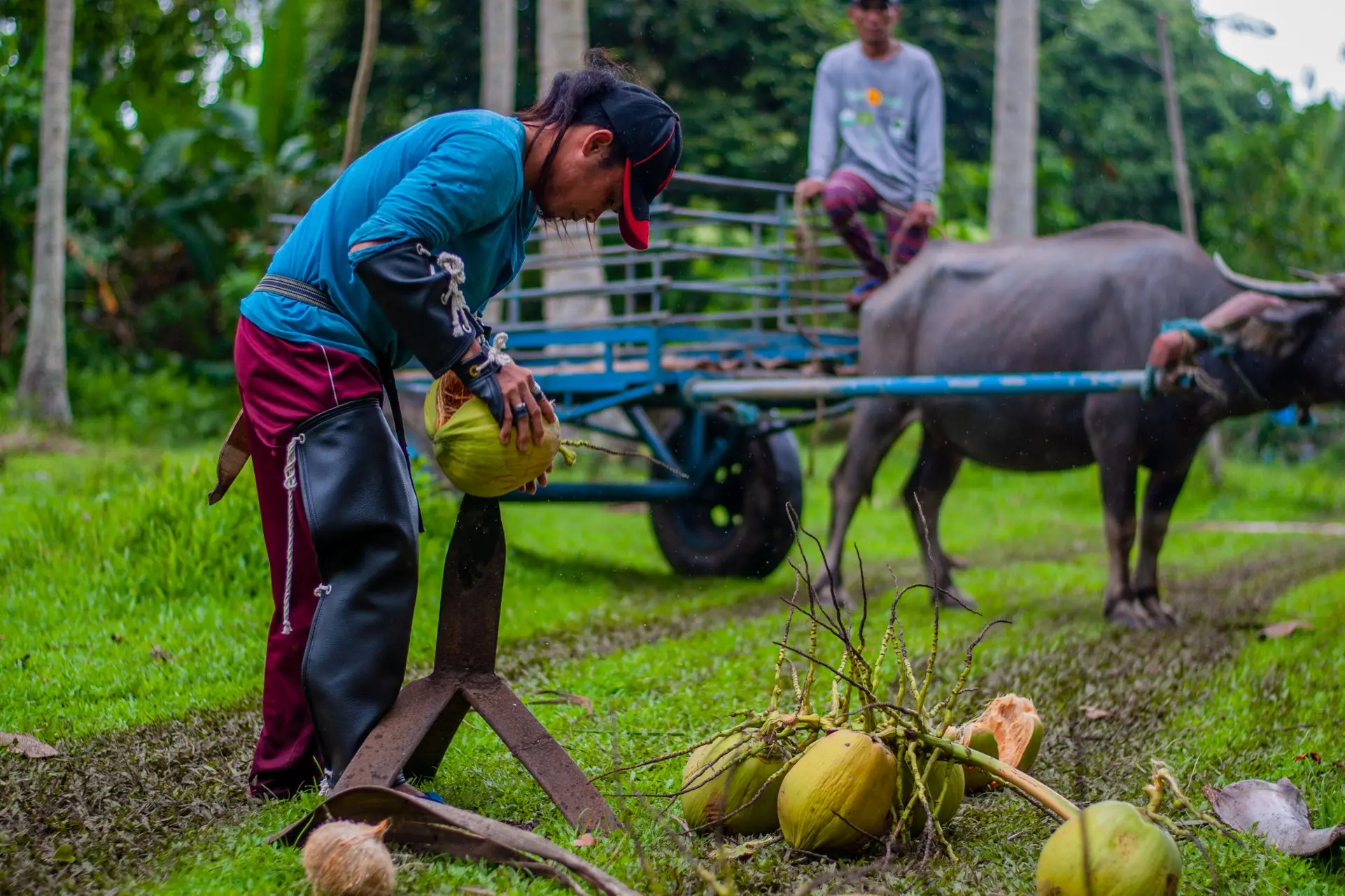 At a time the demand for coconut products is exploding in the developed world, an OZY investigation from the Philippines and Indonesia finds that the 8 million small-scale farmers growing the fruit in the world's two biggest coconut-exporting countries are – far from benefiting – actually hurting. Between the two of them, the Philippines and Indonesia produce almost 70 percent of the world's exported coconuts. Yet the countries' coconut farmers are facing a widening gap between the value of their products in the West and what they earn.
Demand for virgin coconut oil in Europe has risen by double digits yearly since 2010. In the U.S., coconut water sales have grown by nearly 300 percent since 2013, and are expected to increase a further 200 percent, to more than $2.5 billion by 2024. A liter of coconut water costs between $3 to $10 in New York City, depending on whether it's organic, raw, single-source or conventionally  produced – options that barely existed as recently as 2015.
But independent small-scale farmers like Veraya who produce 95 percent of coconuts in the Philippines and 98 percent in Indonesia typically earn less than $2 a day, down from $4 in 2015, says Jun Pascua, director of the National Peasants Movement, a Filipino association that represents coconut farmers.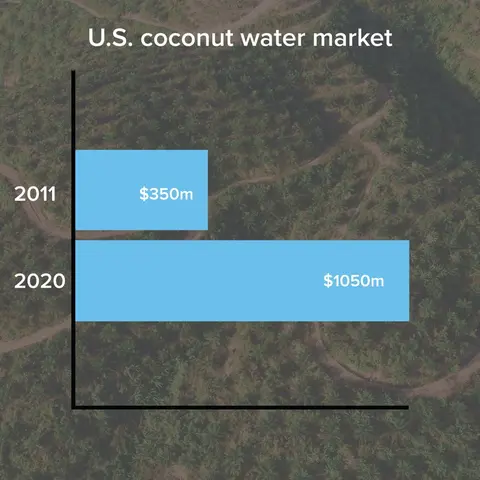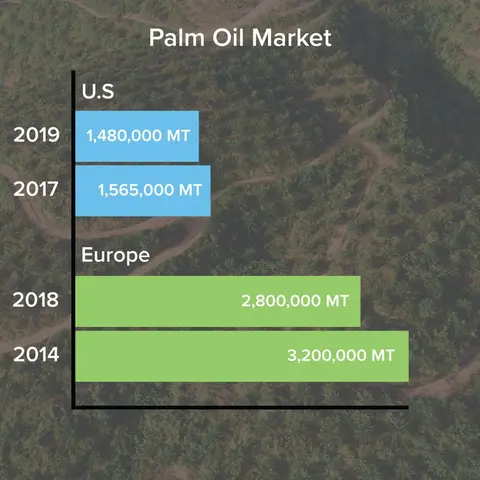 That's because while the future of the coconut—a key ingredient in environmentally friendly fake meat and dairy products—in the West appears bright, cultivators in Southeast Asia are facing more immediate pressures in traditional markets. The Philippines and Indonesia are also two of the world's five largest consumers of coconut oil. Palm oil manufacturers, struggling with declining demand in the West, are flooding these poorer nations with their cheap products. Imports of palm oil by the Philippines have grown by more than 300 percent since 2011. During that same period, production of palm oil in Indonesia has grown by 65 percent.
Palm oil, which is manufactured by multinational giants, is significantly cheaper than locally produced coconut oil. That makes it hard for farmers like Veraya to compete in markets like the Philippines (annual per capita income $3,300) and Indonesia ($4,150), where most customers don't have the luxury of paying a premium for vegan dairy alternatives or virgin coconut oil.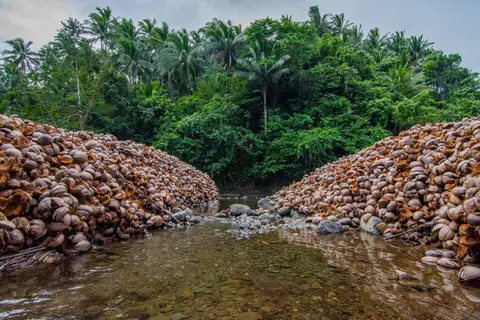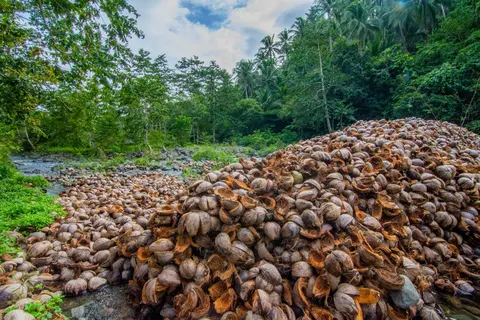 In Manila grocery stores, half a liter of imported palm oil from global brands like Golden Fry, Baguio, and Mitra costs just 46 pesos (90 cents), while the same amount of coconut oil is 72 pesos ($1.41). Virgin coconut oil costs even more – nearly $5 for half a liter. "The edible oil market is very price sensitive," says Yvonne Agustin, executive director of the United Coconut Association of the Philippines (UCAP), based in Manila. "Palm has virtually replaced coconut as a cooking oil in the Philippines."
In Veraya's own kitchen, palm oil is readily used, as is the case with most of his coconut-farming neighbors. They lack the time and equipment to make their own coconut oil and face the same price pressures as most Filipinos.
But the challenge isn't just theirs. The hit that farmers in these Southeast Asian countries are taking is also threatening to strike at the West's growing appetite for coconuts.
Marvin Adornado has never heard of Burger King's Impossible Whopper. But the fast-food giant's meatless burger – launched last August - depends on coconut oil sourced from the fruits cultivated by farmers like him. It's the same with Dunkin' Donuts' Beyond Sausage Sandwich. Both the Impossible Whopper and the Beyond Sausage Sandwich are key parts of the plant-based meat industry that grew 264 percent during the first two months of the coronavirus pandemic, as people turned to healthier food options.
Coconut oil helps mimic animal fat and makes these products taste more meatlike. Coconut cream and milk are also critical ingredients in the popular Chobani and Silk nondairy yogurts, Field Roast and Follow Your Heart vegan cheeses, and So Delicious vegan ice cream. And then there's the growing use of coconut oil in high-end cosmetics such as Lush shower oils and shampoos
and Biosilk conditioners.
There's a reason for this embrace of coconut oil. A growing body of research has linked palm oil – traditionally used by the processed food and cosmetics industries – to deforestation, fires and the destruction of habitats where endangered species such as orangutans live. Meanwhile, some scientists believe that coconut trees are more sustainable since they can grow in mixed-use landscapes, unlike palm trees. Data from the World Resources Institute, an environmental think tank, shows that fires on coconut farms are rare.

But what farmers, who are at one end of a complex and often untraceable supply chain that links them to Western consumers, are receiving is mere pennies on the dollar, says Molly Renaldo, business development manager of Fair Trade USA's coconut program.
Adornado, a skinny, serious-looking man with a 10-acre plantation 6 miles from Veraya's, has stopped bothering to even harvest his coconuts. "Instead of selling the coconuts, we just let them fall and grow by themselves in our farm," he says. Concern for the planet doesn't feed hungry mouths. The 29-year-old supports his three children, his wife and his parents. It's more profitable for him to work at remote construction sites for minimum wage – at least $6 a day.
It's a vicious cycle. Tiny earnings mean most farmers lack access to infrastructure and technology to produce high-value products such as virgin coconut oil, coconut water or coconut cream, which are in demand in U.S. and European markets – leaving them perpetually dependent on middlemen.
Adornado isn't alone in neglecting his trees. Throughout the Philippines, coconut trees all look roughly the same height. That's not by accident. Almost all of them were planted 40 to 50 years ago, by the parents and grandparents of today's farmers, when coconuts played a central role in local economies. But the trees become gradually less productive after 30 years and eventually become senile.
Data from the Philippine Coconut Authority suggests that 20 percent of the country's trees are already senile or producing less than 10 coconuts a year. According to the Coconut Knowledge Center, an Australia-based agricultural consultancy group, the situation is even worse in Indonesia, where an estimated 50 to 60 percent of trees are overage or senile. Aluan, a social enterprise that works with farmer collectives in Aceh, Indonesia, estimates that as many as 90 percent of all coconut trees in Asia are nearing the end of their productive life cycle.
Yet the declining economic benefits mean there's little incentive for farmers like Adornado to replant coconut trees. "A huge challenge facing the coconut industry is figuring out replanting the millions and millions of senile coconut palms," says Vincent Johnson, director of the Coconut Genetic Resources Network (CoGent), a global group of scientists collaborating on coconut conservation.
That's bad news for the fast-growing coconut-based food and cosmetics industry. Indonesia is one of the two sources of coconut oil – Malaysia is the other – that Beyond Meat relies on for the plant-based-sausage sandwiches it supplies to Dunkin' Donuts. Beyond Meat's revenue grew by 250 percent in 2019, as the sandwich took off.
Impossible Foods - which produces 500,000 pounds of meatless patties every month for the Impossible Whopper, and supplies more than 9,000 restaurants in all - gets all its coconut oil from the Philippines. As demand expands, it will need a lot more coconuts. "We take great care to source quality coconuts that satisfy the demands of our robust supply chain protocols," says Rachel Konrad, chief communications officer of Impossible Foods.
But if more farmers let coconut trees grow old or shift to cultivating other crops – including oil palm trees - maintaining that supply will become harder. There are already worrisome signs. In the Philippines, the amount of nuts gathered has fallen 10 percent since 2009, according to data from UCAP, while in Indonesia it has fallen by 8 percent since 2012.
"Coconut supply is falling," says Christy Owen, who leads coconut-related projects for USAID Green Invest Asia, an arm of the development agency that focuses on sustainable commodity production. "The incentive is low for producers to invest in cultivating coconuts." She fears this could lead to a disruption in the global coconut supply chain.
The beneficiary? The palm oil industry, which, wounded by the turn to environmental consciousness in the West, is expanding its footprint in the traditional homes of coconut oil.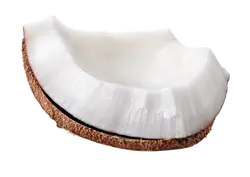 Since 2000, Singapore-based agribusiness group Wilmar has counted on the U.S. and Europe as dependable engines of growth for its palm oil business. But shifting consumer preferences are hurting the company and other major players like fellow Singapore-based Musim Mas and Golden Agri-Resources, Malaysia's Sime Darby and Felda, and American agriculture giant Cargill.
Exposés on deforestation, fires and human rights abuses have caused palm oil imports for consumer goods to drop by 11 percent in Europe since 2014, according to Germany-based global forecasting service Oil World. In the U.S., palm oil consumption has plateaued since 2017 after years of double-digit growth. Major traders like Wilmar – the world's largest seller of palm oil – are searching for markets more vulnerable to their offer of cheap products.
They've chosen the Philippines and Indonesia. According to the Department of Agriculture in the Philippines, palm oil imports surged by 176 percent in 2018 alone. Indonesia's domestic market is so saturated with palm oil that companies are pushing for its use as a transport fuel. The government has now mandated that 20 to 30 percent of the country's fuel mix be palm-oil-based biodiesel.
These palm oil companies insist they're expanding in Indonesia and the Philippines in a sustainable and responsible manner. Carolyn Lim, a spokesperson for Musim Mas, says the firm recognizes the role of palm oil as a driver of deforestation, but that "its impact has diminished proportionately in recent years" and that they suspend suppliers who are not producing sustainably. Wilmar pointed to its
Zero Deforestation, No Peat, No Exploitation policy, released in 2012, and reiterated its commitment to it. Cargill and Sime Darby did not respond to questions from OZY.
But environmental groups say those assertions are misleading. Greenpeace found that Wilmar, Cargill, Musim Mas and Golden Agri-Resources all had links to last year's forest fires in Indonesia that burned an area 20 times the size of New York City. Mighty Earth, a Washington, D.C.-based environmental nonprofit, named Cargill the "worst company in the world" last year, accusing it of repeated purchases of palm oil from rainforest destroyers in Indonesia and Guatemala and of refusal to change practices, even when confronted.
"We see the growth of Southeast Asian markets as one of the biggest remaining sustainability concerns in the palm oil space," says Deborah Lapidus, a campaigns director with Mighty Earth. "The environmental consequences of palm oil have started to come to light ... but the market doesn't want to die."
Ironically, palm oil is finding allies in the governments of the countries that the industry is now invading. In the Philippines, the government is setting up palm tree nurseries and helping companies acquire land, pointing to the sector's potential in drawing foreign investments. Foreign companies, including Cargill and Musim Mas, are investing in projects through local partners or subsidiaries.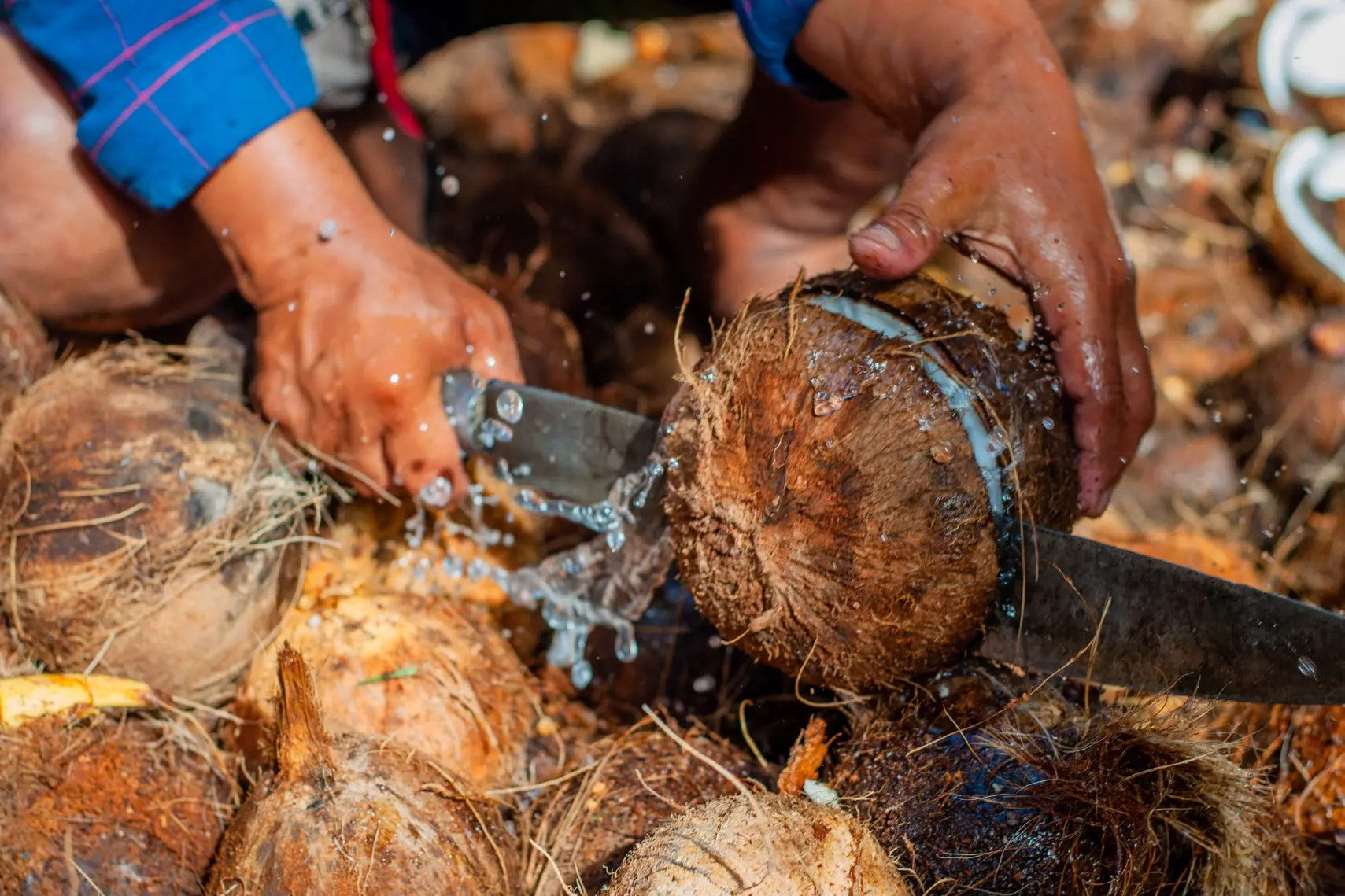 Meanwhile, coconut farmers say they've received little support from their governments. In fact, systemic corruption in government agencies going back generations has often robbed farmers of what was their due. An estimated 9.7 billion pesos ($192 million) from a Filipino government fund meant to help coconut farmers ended up in the pockets of cronies of former President Ferdinand Marcos, who ruled the country from 1965 to 1986. That money has yet to be returned, despite a 2014 Supreme Court ruling.
"We have been fighting for these funds for decades, but until now, we have yet to have a taste," says Adornado.
The crisis is leading farmers in places like Mindanao in the southern Philippines to take drastic steps – they're cutting down their coconut trees and replacing them with oil palm.
Other small-scale farmers who are sticking with coconut trees earn so little that they're unable to invest in making the sector genuinely sustainable. After Veraya chops open a coconut, he throws the water away. Gallons of the very same product that sell for at least $3 a bottle in the U.S. and Europe are worthless here. "We don't have the means to store it, in order to keep it fresh," he explains. "It spoils within the day if you don't store it in a cool place."
Not far from Veraya's and Adornado's farms, coconut trees line the steep cliffs above the Agos River valley. On the riverbank are giant mounds of coconut husks that could have been turned into activated charcoal — a popular toothpaste, cosmetic and food supplement — charcoal for shisha smoking or shell powder (used as an exfoliant in beauty products and in mosquito coils). Without the tools to produce these byproducts, the husks go to waste.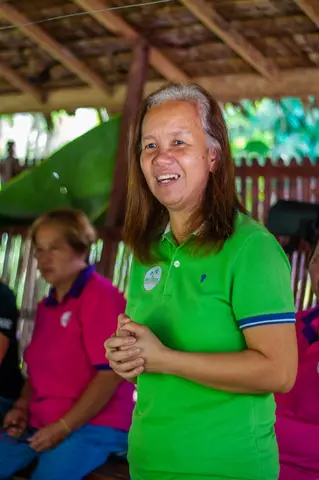 Above: Anabelle Tan Reynoso at her coconut farm in Sariaya, Philippines. Image by Jervis Gonzales. Philippines, undated.
Still, not everyone has given up hope. In both the Philippines and Indonesia, a resistance is underway.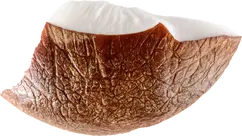 In Sariaya, a rural district three hours from Manila, workers are using long pole pruners to cut bunches of coconuts ahead of a coming typhoon. Here, 394 coconut farmers grow coconuts on 74,000 acres not far from the Philippine Sea. They've come together and been certified by Fair Trade USA, in an effort to empower coconut farmers and enable them to profit from the growing demand for their produce in the West.
Also supporting the farmers is Peter Paul, one of the Philippines' largest coconut companies, which has seen increased demand from Western buyers for organic coconut that can be traced back to its origins. Peter Paul's buyers include sustainable food firms such as the U.S.-based Nutiva, Kroger, Alter Eco and Bee Bella.
"Initially, the farmers were hesitant," says Anabelle Tan Reynoso, president of the local association of coconut farmers. The proposition - that two outside organizations, Fair Trade USA and Peter Paul, would assist the farmers in getting certified, provide free skills training and technology and enable them to earn more money – seemed too good to be true. That hesitation is rooted in the way farmers have been let down in the past, including by their own governments, says Jameson Yao, field manager for Peter Paul's fair-trade program.
Peter Paul had to put in time to build relationships with farmers like Reynoso. It started with 100 farmers, but once it became clear that fair trade meant higher incomes and community empowerment, hundreds of other farmers decided to join. "It's raising our dignity as farmers," says Reynoso.
In 2014, when the initiative started, Reynoso's farm was in a similar condition to Veraya's and Adornado's. Today it boasts bright green coconuts that are nearly twice as large as the ones on Veraya's or Adornado's farms. Dozens of 3- and 4-year-old trees grow on her plantation, part of a replanting campaign under which a nursery was set up to train farmers in generating a sustainable supply of organic fair-trade coconuts. There is no waste – coconut water can be collected and sold due to the proximity of Peter Paul's processing facility, while husks are used as fertilizer or as additives for organic compost.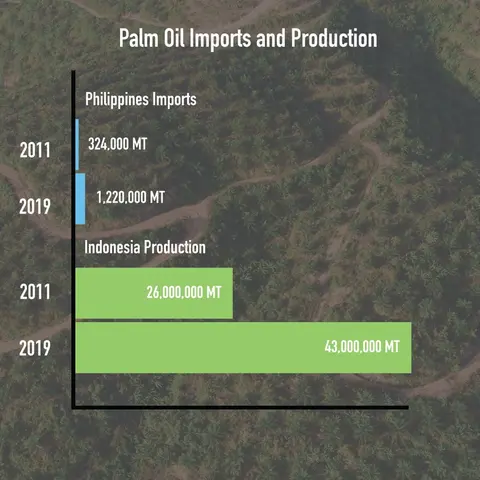 For the 394 farmers, there's a guaranteed buyer in Peter Paul, which in turn has assured supply. Fair Trade USA connects the farmers directly with organic oil brands like the U.K.-based Lucy Bee and organic coconut water firms like Harmless Harvest in the United States.
That allows Reynoso to earn 20 cents more than the market price for every organic coconut. She earns three times more per coconut than Veraya and can hire workers – all paid a living wage - to handle chores on her farm. A separate premium that brands pay the farmers' collective in exchange for fair-trade coconuts goes into a group account used to fund education, health care and other community needs.
"The farmers are more empowered," says Reynoso. "We now properly care for the soil, the environment ... we've learned the modern ways of planting and caring for the coconuts."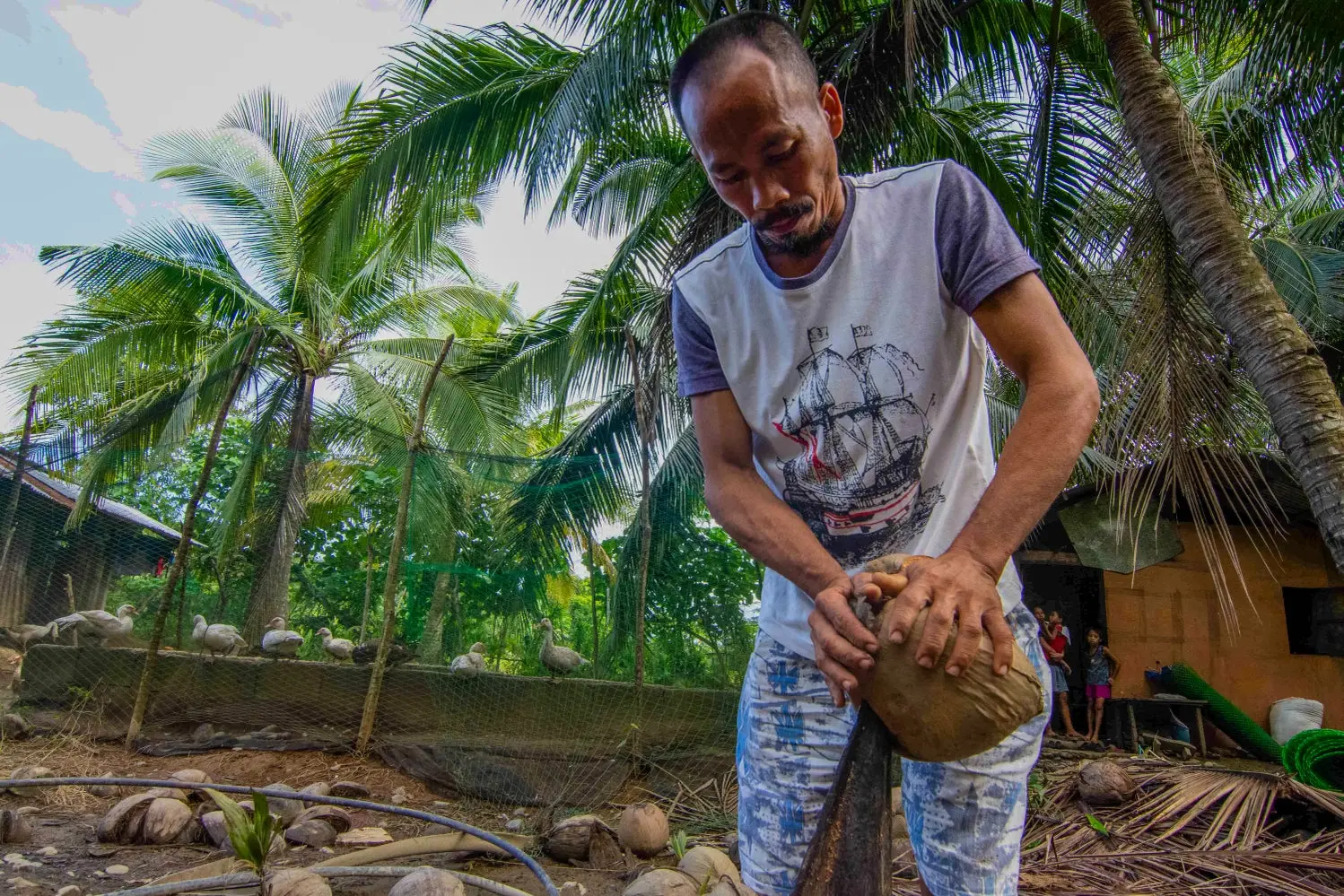 Aluan, the social enterprise in Aceh, is trying something similar. It's training 500 small-scale coconut farmers – all certified as organic producers – to produce high-value exports like virgin coconut oil and coconut flour. "We're trying to add value at the source," says Jane Dunlop, co-founder of Aluan and a longtime Aceh resident. A nursery is helping with replanting. And a recently opened processing facility will allow farmers to scale up the production of virgin coconut oil from 45,000 liters in 2019 to 180,000 liters a year, and also begin to produce organic coconut flour. Currently, their largest customer is Lush, and the majority of their coconut oil goes to the cosmetics sector in Europe and the United Kingdom.
For now, the impact of these projects, while meaningful, is limited. Combined, Aluan's and Peter Paul's fair-trade plantations account for less than 1 percent of coconut production in the Philippines and Indonesia. Reynoso's plantation is just 60 miles from Veraya's and Adornado's, but it feels much, much farther.
The coconut industry is at a crossroads. For coconuts to be sustainable, efforts like the ones by Fair Trade USA and Aluan need to be scaled up. That will require more brands and consumers to demand transparency and sustainability in their purchasing habits.
"I would like to see more fair-trade buyers buying coconut products," says Quirino J. Panganiban, assistant vice president for logistics at Peter Paul. "It's good for the farmers."
The alternative is dire, and not just for farmers. Without new productive coconut trees, and farmers willing to work them, companies like Impossible Foods, Chobani, So Delicious, Harmless Harvest and Lush will struggle to meet the growing demand for their products.
"It's going to fall off a cliff," says Dunlop.