This story excerpt was translated from bahasa Indonesia. To read the original story in full, visit Mongabay. You may also view the original story on the Rainforest Journalism Fund website. Our website is available in English, Spanish, bahasa Indonesia, French, and Portuguese.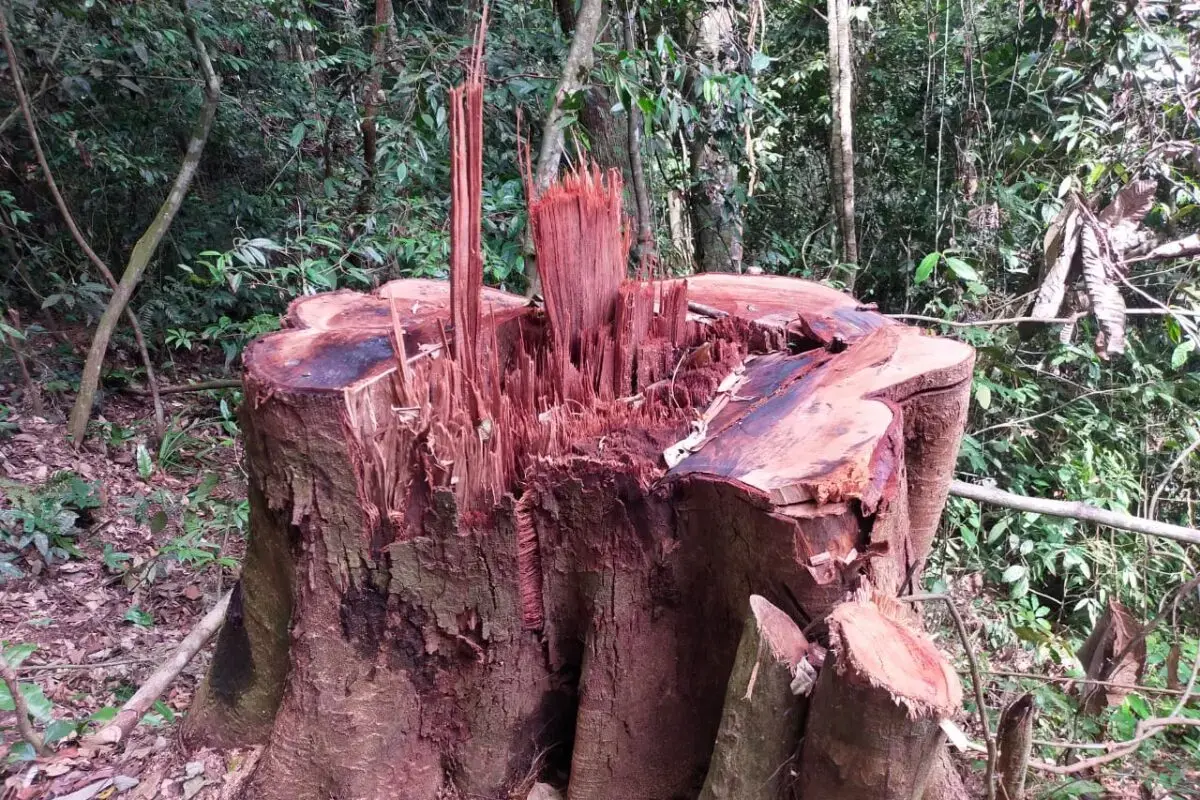 Disasters haunt residents in South Pesisir, West Sumatra, such as that of March 2021. Floodwaters suddenly came, submerging homes. The results of the evaluation and review of the West Sumatra BPBD show that several points of TNKS forest cover, precisely in the upper reaches of the Sako River, have been cleared. The initial suspicion is that this forest clearing is a former site of illegal logging.
The flood not only carried water but also logs suspected to be from the Kerinci Seblat National Park (TNKS) forest. This assumption is based on the type of wood and the origin of the wood. These meranti and surian logs hit several houses and severely damaged them.
When visiting the hills in Nagari Gambir, Sungai Sako Tapan, Pesisir Selatan, in June 2022, we found that the higher up the hill we went, the more trees had been cut down, including meranti wood and bonio.
Ahmad Darwis, Head of the West Sumatra Region II National Park Management Division (BPTN), said that the flooding in Tapan some time ago was not a chance incident, but a result of massive land clearing outside and inside the area. It is precisely a massive land clearing that causes such a flash flood.
---
Syafei, a resident of Kampung Tangah Tapan, Pesisir Selatan Regency, Sumatra, was shocked. Suddenly, flood water entered the house even though it was only raining. When the water entered the house, the residents ran to the kitchen to save the rice and unhulled rice from the last harvest.
"Some sacks could be saved, the rest were damaged," said Syafei, recalling the March 2021 incident.
While they were busy moving the grain, a log suddenly hit the kitchen. The kitchen wall collapsed, with flood water entering the house. Luckily, there were no casualties, but Syafei's house was severely damaged, with most of his belongings submerged in water.
"The flood came suddenly, so we didn't have time to save our belongings."
He suspected heavy rain upstream until the flood suddenly came. At that time, the flood inundated the house by about one to two meters. "Clothes were wet, rice could not be saved because the water arrived unexpectedly. Rice fields, corn fields were submerged."
The flooded area is directly adjacent to the Kerinci Sebelat National Park (TNKS), precisely in Ranah Ampek Hulu Tapan and Basa Ampek Balai Tapan sub-districts, Pesisir Selatan.
Watch the video: