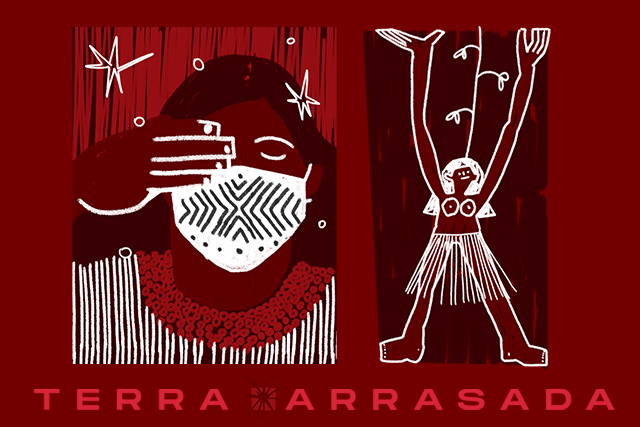 Vanda Ortega Witoto lives in Manaus. Edneia Telles Arapaso, in São Gabriel da Cachoeira. Though they are distant points on the map, they are living a common fight against the novel coronavirus. And against the Brazil's institutional racism, particularly visible in its health system. As reporter Izabel Santos explains, they are an example of the importance of indigenous women in community and national politics today in Brazil.
In this photo essay for "Scorched Earth," Avener Prado photographed the podcast subjects from a distance. They are pictures of screens, in which the characters appear a little blurred, half-pixelized. In addition to respecting the protocols of social distancing, the idea of this essay is to visualize the images that are formed by making connections with the most diverse corners of the country.
Additional Sources Quoted in the Episode
TV Band Amazonas
Voice of the indigenous communicator Claudinha Ferraz, of the Wanano people, of "The Wayuri Network of Indigenous Communication", who circulated through the streets of São Gabriel da Cachoeira in a sound car alerting the population.
Team
This episode was produced by Izabel Santos. "Scorched Earth" is a project from Le Monde Diplomatique Brasil, with the support of Rainforest Journalism Fund in partnership with Pulitzer Center. A production of Fabio Zuker, with Trovão Mídia. The sound direction is by Ricardo Monteiro. The sound editing is by Tomás Xavier. The soundtrack is by studio ó. The podcast artwork is by indigenous artist Gustavo Caboco. Photos by Avener Prado.
---
To view this story in Portuguese via Le Monde Diplomatique Brasil, click here. To listen in Portuguese via Spotify, click here.