A bahasa Indonesia version of this story was translated and published by TEMPO. The full Indonesian version can be read here.
---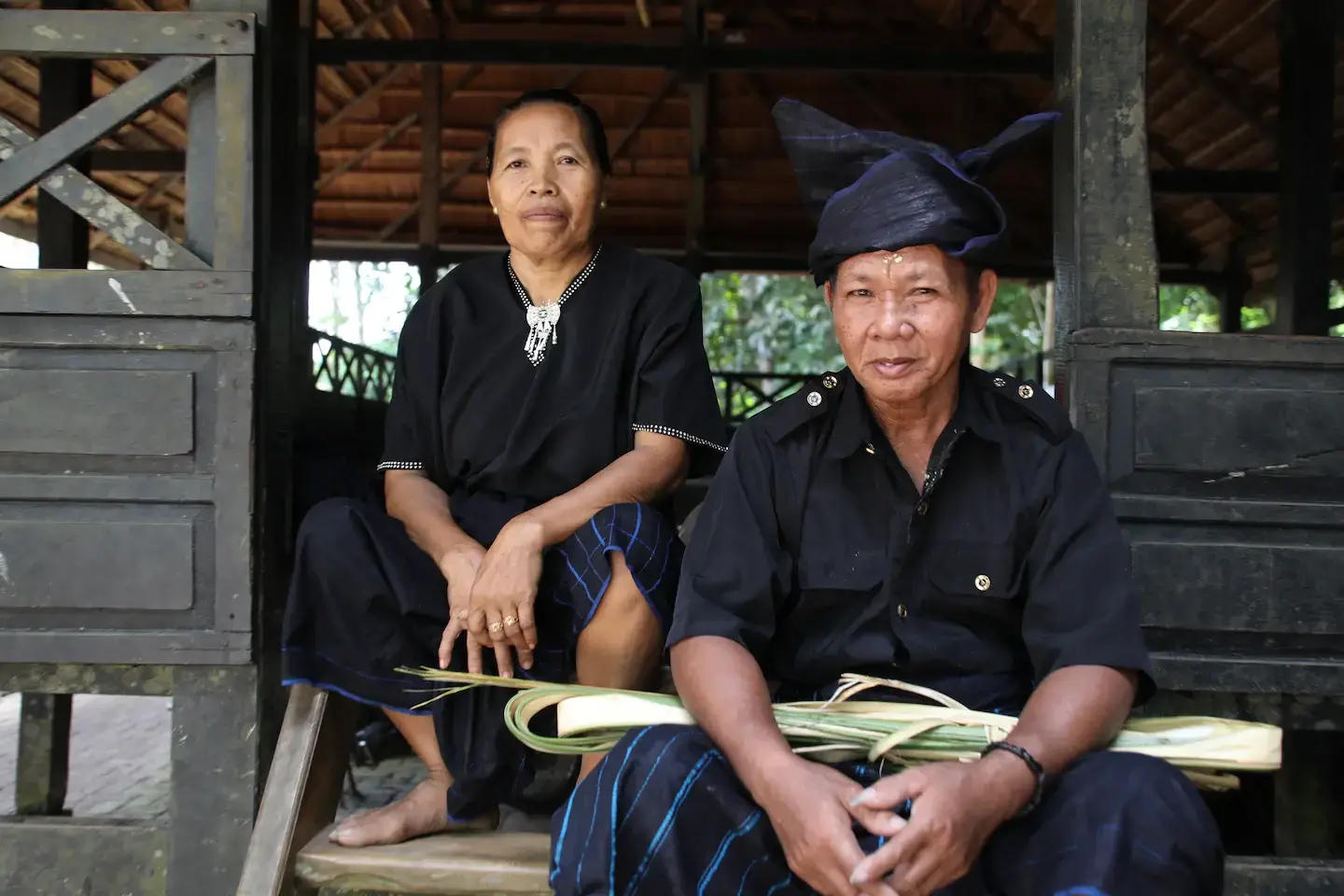 BULUKUMBA REGENCY, Indonesia—By midmorning, beams of tropical sun cut through the rainforest canopy, illuminating a bamboo hut in a rare clearing of trees. Inside, a wrinkled old man, sitting cross-legged with his eyes shut, whispers blessings to the Earth.
After the spiritual leader, the Ammatoa, goes silent, groups of men wearing dark indigo sarongs jump to their feet and head into the forest carrying an offering of rattan baskets full of rice, bananas and lighted candles.
"The Earth is angry with us," said Budi, a barefoot boy crouching on the hut's edge. "That is why the weather is getting worse. There are more rains and floods. It is getting hotter. It is because we have sinned."
This ritual is known as the Andingingi, held once a year by the Kajang, a tribe from the Indonesian island of Sulawesi. Like many parts of the world, their land has been hit by more extreme weather because of climate change. But as satellite imagery shows, the Kajang's dense primary forest is free from roads and development, soaking up violent rains that devastate other parts of the island.
---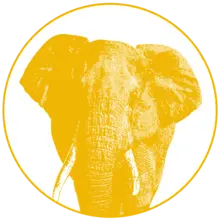 As a nonprofit journalism organization, we depend on your support to fund journalism covering underreported issues around the world. Donate any amount today to become a Pulitzer Center Champion and receive exclusive benefits!
---
As global deforestation continues at alarming rates, the empowerment of Indigenous peoples such as the Kajang is emerging as a key way to protect the world's rainforests. A spate of recent research suggests that when armed with land rights, these communities, whose members manage half the world's land and 80 percent of its biodiversity, are remarkably effective custodians.
Meanwhile, doubts have arisen about the effectiveness of carbon offsets and other programs aimed at curbing deforestation despite the billions of dollars poured into them.
Indigenous cultures "have contributed to reduce forest destruction in various ways," concluded a landmark U.N. review of more than 300 studies in 2021.
The Kajang offer a window into how Indigenous groups go about that work. The community lives according to the Pasang Ri Kajang, an ancestral law passed down orally through legends and tales. It tells of how the first human fell from the sky into their forest, making it the most sacred place on Earth.
In practice, that means the forest is at the center of life. The Kajang rely on subsistence agriculture, with no industry or commerce to speak of. Cutting trees, hunting animals and even pulling up grass is prohibited on most of the land. Modern technology, such as cars and mobile phones, is not allowed within the traditional territory.
"The tree is just like a human body," said Mail, a 28-year-old Kajang who, like many Indonesians, has only one name. "If we preserve the forest, we preserve ourselves. … But if the forest is destroyed, there will be nothing for the bees, nothing for the flowers and nothing for life."
Handing over forest control
So far, Indigenous tribes have received little legal, financial or institutional backing, advocates say. A 2021 report by the nonprofit Rainforest Foundation Norway found that over the past decade, Indigenous peoples received less than 1 percent of donor funding for fighting deforestation.
Yet policy is now beginning to shift in recognition of the role they can play in protecting the land. A global study published in the scientific journal Nature Sustainability in 2021 found that across the tropics, Indigenous lands had 20 percent less deforestation than nonprotected areas. Another analysis, from 2016 by the nonprofit World Resources Institute, shows deforestation rates inside lands controlled by Indigenous communities in Bolivia, Brazil and Colombia were two to three times lower than outside these areas.
"This is primarily because their livelihoods and worldviews are more compatible with seeing humans as living in and with nature rather than converting it to other uses," said Anne Larson of the Center for International Forestry Research, a global nonprofit.
At the U.N. Climate Change Conference in 2021, also known as COP26, world leaders pledged $1.7 billion of funding for these communities, calling them "guardians of forests."
Lessons on how to provide that support can be learned from Indonesia, which has thousands of ethnic groups living across its more than 350,000 square miles of tropical forest, the world's third largest behind Brazil and the Democratic Republic of Congo.
In December 2016, the Indonesian government officially recognized more than 50 square miles of rainforest as belonging to nine of the country's tribes — including the Kajang — following a landmark ruling by the nation's highest court. "We all know that since a long time ago Indigenous peoples have been able to manage customary forests in a sustainable manner based on existing local wisdom," said President Joko Widodo at the time. "These values are important for us to remember in today's modern times."
In a case brought by the Alliance of Indigenous Peoples of the Archipelago (AMAN), an Indonesian nonprofit, the Constitutional Court ruled in 2013 that the state should transfer ownership of what are called customary forests to the Indigenous peoples who had historically governed them according to custom. Until then, all of Indonesia's forests fell under state control.
"That was a huge victory," said Sardi Razak, AMAN's regional manager for South Sulawesi. "That was the first step in finally giving back the rightful ownership of these lands to the people."
Since 2016, Indonesia's recognized customary forests have grown to more than 580 square miles — nearly twice the size of New York City — across more than 100 tribes, according to the Ministry of Environment and Forestry. In October 2022, the government designated the first customary forests in Papua, the country's most heavily forested area. Nearly 100 more recognitions could soon follow — taking the total to over 3,800 square miles.
Meanwhile, the rate of primary forest loss in Indonesia has declined every year since 2016, according to the most recent data available, and is now at its lowest level since at least 2002.
The recognition of customary forests, along with government efforts to protect peatlands and mangroves and to tighten regulations on logging, oil palm and mining permits, has helped drive that reduction, Razak said.
Kajang forest guardians
The Kajang are a showcase of Indonesia's experiment. For years, local forest rangers have helped protect a wealth of native wildlife, including deer, monkeys, wild boars and tropical birds, as well as four rivers, whose watersheds supply several villages outside Kajang land.
Seen from above, the Kajang homes are dots across a vast green expanse of tropical rainforest spanning about 12 square miles.
"The Kajang forest is a dark spot on maps," said Willem van der Muur, a land tenure specialist who carried out fieldwork with the Kajang. "It's one of the only rainforests in that region that has been preserved. That's thanks to the customary law."
The group's territory is divided into fifteen outer villages, plus an inner circle with four villages that form the tribe's sacred territory.
The philosophy of Kamase Mase, living simply and taking no more than needed to subsist, underpins their lifestyle here. The Kajang live in stilt houses with thatched roofs and clapboard walls. They walk barefoot and wear only black or indigo clothes, emphasizing equality, humility and a connection to Earth.
"We must keep the tradition," said Jaja Tika, a weaver who is unsure of her age but believes she is at least 70. "As long as we live, the forest will exist."
There are even stronger controls over the Kajang's forest, which covers 75 percent of their land. The majority of it can't be used, save for a few exceptions such as performing rituals and harvesting timber to build a house. The Kajang's leader, the Ammatoa, ensures that rules are followed, and violators face fines or even expulsion.
One afternoon at the Ammatoa's house, a wooden structure on poles, a member of the Kajang was being interrogated for cutting down a tree planted by his father and attempting to sell the timber.
The man sat on bamboo floor slats in a corner of the room, flanked by a dozen of the Ammatoa's counselors smoking tobacco.
"You tried to sell your heritage," said the 87-year-old leader, with a flash of anger across his face.
He slapped his chest and recited a traditional verse: "Take care of the forest," he said. "Tree leaves create rain. The roots keep water. And take care of the lungs of the earth."
The Ammatoa then sent the offender away; his fate would be determined later.
Fending off outside threats
More serious threats to the Kajang's forest have come from companies. Over the decades, conflicts have flared with PT London Sumatra (LONSUM), a rubber plantation firm that owns a concession overlapping some Kajang territory.
Tensions came to a head in 2003, when 1,500 protesters occupied the concession, declaring LONSUM, which has links to the Dutch colonial period, had obtained it through illegal land grabbing. Police and security forces fired at the protesters, killing four and injuring at least 20. "It was a time of great violence," said Jumarling, a Kajang forest ranger. "Blood was shed trying to protect our lands."
LONSUM did not respond to requests for comment.
Land disputes are common in Indonesia, home to rich mineral resources. According to a report by the Agrarian Reform Consortium, an Indonesian advocacy group, there were 212 agrarian conflicts across 34 provinces in 2022, covering about 3,800 square miles of land.
The bolstering of Indigenous land rights gives communities like the Kajang tools to fend off illegal development. The process of obtaining recognition involved hundreds of meetings between Kajang leadership, regional government staff, members of the Forestry Agency and several NGOs.
"Many didn't know until then that their own forest was technically owned by the government," said Andi Buyung, a Kajang member who was chairperson of the local government's Bulukumba Regency from 2014 to 2019. "But now everyone has a better understanding, and this recognition carries extraordinary weight. If any company approaches them, they know their right to the land."
Now, offenders can be punished under both the customary law, which includes fines of up to 12 million rupiah ($790), a huge amount of money in local terms, and district laws, which can lead to jail time. The Ammatoa relies on a group of eagle-eyed forest rangers to patrol the sacred territory and spot violations. "They're like my smartphone," he said.
Yet Indigenous rights advocates say the government is slow to process claims, and less than 10 percent of the potential 53,000 square miles is currently in the process of recognition.
The Kajang, who believe they possess nearly 80 square miles of land, requested recognition of around 12 square miles of forest, but received only 1.2. "It was far from our expectations," said Hasbi Berliani, program manager for Kemitraan, a local NGO that was part of the Kajang's negotiations.
The government has been trying to speed up the process, according to Yuli Prasetyo, an official at the Ministry of Environment and Forestry. "We are amending ministerial regulations to make it easier," he said.
But communities must also contend with district governments, which must greenlight any customary forest. They "might be tempted to give out concessions for mining or logging to bring in money," said van der Muur.
The next generation
Now the Kajang face another threat. Modernization, particularly in the tribe's outer villages where the Pasang is not followed as strictly, is beginning to change how some Kajang perceive traditional rules. Younger generations, who are going to cities to study, have begun to use cellphones and wear factory-produced clothing.
But some want to follow their forebears and carry on as pioneers of Indonesia's community-led forest management.
After graduating from college in the city of Makassar, Ramlah, the 38-year-old daughter of the Ammatoa, refused to give up her roots and returned to help lead a women's weaving cooperative, which sells handmade sarongs at local markets.
The sarongs, worn by all Kajang, are traditionally made by spinning locally grown cotton into yarn, weaving it into cloth using a loom made from local timber, and then dyeing it with the leaves of the indigo plants they cultivate.
"The most important thing in life is the forest," said Ramlah, sitting among a group of weavers on a sun-dappled veranda. "But modernity is important, too. Finally, the national and Indigenous laws are in unison. We have the power to strengthen us."