On the border with Brazil, "bosses" send boats to recruit Brazilian Indians who live in the communities along the river
Benjamin Constant, neighboring Atalaia, is one of the municipalities where indigenous people are recruited
Lack of income and jobs attracts young indigenous people to work on Peru's plantations
Drug Use and Enticement by Trafficking Worry Community Leaders in Alto Solimões
Genaro, a motorcycle taxi driver, pointed his red motorcycle at the horizon of an Indigenous community on the outskirts of Benjamin Constant (AM). The atmosphere there was calm, far from the bustle of neighboring Atalaia do Norte (AM), which in those days was still living the tension of the search for the then-disappeared Bruno Pereira and Dom Phillips. Genaro was wearing jeans, a cap to alleviate the midday sun of the Amazonian summer, and a colorful T-shirt made of synthetic fabric in bluish tones. Of Indigenous Tikuna identity, he agreed to meet the Agência Pública reporter to tell a personal drama: the story of his son imprisoned for drug trafficking in Colombia. Genaro's last name was suppressed to preserve his son's identity.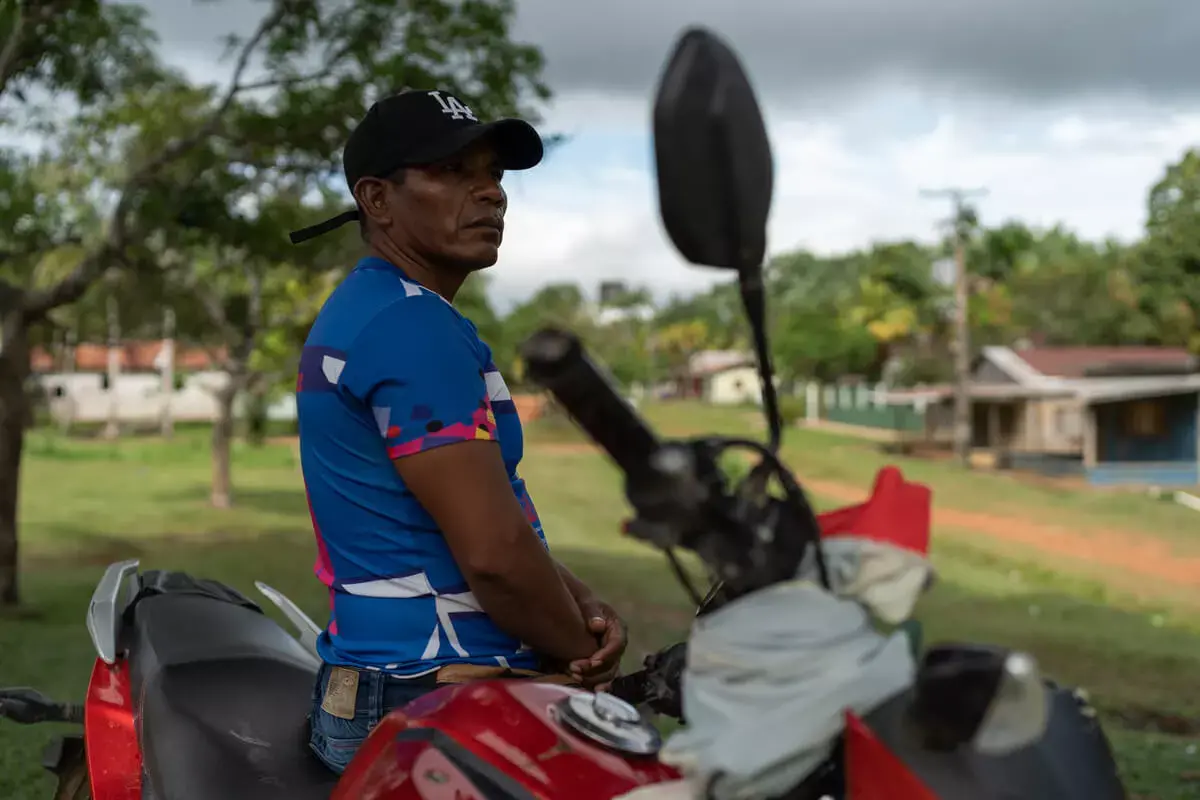 Claudio* was arrested on April 9th of this year in the city of Puerto Nariño, a city on the Colombian side of the Amazon River, on a stretch where the river marks the border between Colombia and Peru. Pública obtained the Colombian documents that prove the young man's arrest for cocaine possession — he is currently being investigated for trafficking. After a custody hearing the next day, the young man was taken to prison in neighboring Leticia, the capital of the Colombian province of Amazonas, which borders Brazil's Tabatinga. The two are called "sister cities" because they form almost a single urban area on the triple border between Peru, Brazil and Colombia (known as the Amazon Trapezium). 
Before his arrest, Claudio was engaged in a job increasingly common in the Indigenous communities of the region, both on the Brazilian side and in neighboring countries: harvesting coca leaves in the so-called "plantations" on the Peruvian side for the production of cocaine. Indigenous people, researchers and public officials who follow the issue told Pública that the Indigenous people are recruited by the "bosses," the Peruvian coca farmers, in the communities where they live.