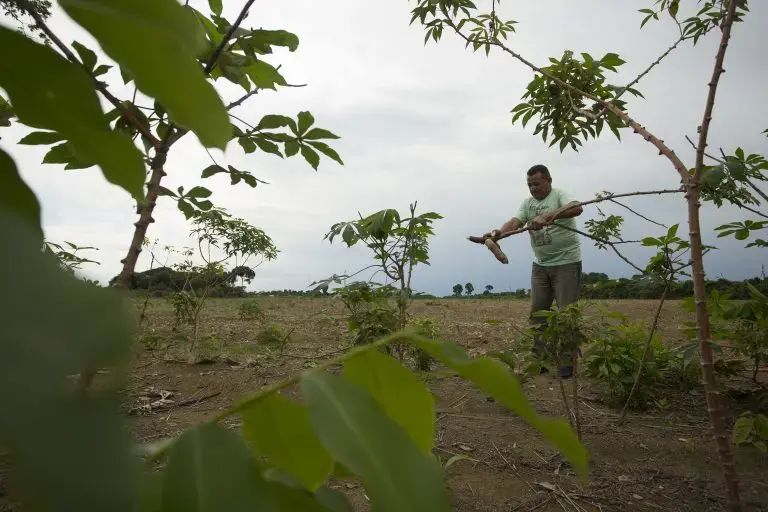 In the early 2000s, the land next to Seu Macaxeira's house was purchased by a new arrival from the South. At first, Seu Macaxeira was happy with his new neighbor. He was friendly and said he came to work the land. When he introduced himself, he said that he really wanted to live in a calm place—in the south, there had been a lot of tension between neighbors. It seemed like he'd moved in order to settle down.
Seu Macaxeira had moved to the community of Santos da Boa Fé near the Curuá-Una highway in the West of Pará in the middle of 1999. He was happy with his crop. He planted papaya, cupuaçu, soursop, potatoes, passion fruit, and manioc—so much that he earned a nickname that he still carries today, at 64. Everyone calls Antônio Alves "Seu Macaxeira," which means "manioc" in Portuguese. With his crops, he supported four children. No poison. At that time, at the turn of the millennium, you couldn't even see soy on the horizon.
To read the full story in Portuguese, click here or view it on Vox Publica.
Nos inícios dos anos 2000 o terreno ao lado da casa de Seu Macaxeira foi comprado por um sulista recém chegado. De início, Seu Macaxeira ficou feliz com a chegada do novo vizinho. Era simpático e dizia que vinha trabalhar a terra. Ao se apresentar, falou que queria mesmo vir para um lugar tranquilo, que lá no Sul tinha tido muito atrito com os vizinhos. Deu a impressão de que veio para se estabelecer.
Seu Macaxeira havia se mudado em meados de 1999 para a comunidade de Santos da Boa Fé, próximo à Rodovia Curuá-Una, em Santarém (Oeste do Pará). Estava contente com a sua produção. Ali plantava mamão, cupuaçu, graviola, batata, maracujá e macaxeira – tanta que lhe rendeu o apelido que leva até hoje, aos 64 anos. Todos chamam Antônio Alves assim: Seu Macaxeira. Com seu plantio, sustentava quatro filhos. Sem veneno. Naquele momento, virada do milênio, a soja sequer figurava em seu horizonte.