This story excerpt was translated from Spanish. To read the original story in full, visit La Barra Espaciadora. You may also view the original story on the Rainforest Journalism Fund website here.
---
In the beginning of time, the planet was destroyed by floods. A tiny island was the only remnant of dry land left. There, Ñañe Paina, the Siekopai god, was standing. He saw bubbles coming out of the water and, behind them, Isi Jamu, the giving armadillo, appeared. In his snout, Isi Jamu carried a small portion of earth. Ñañe Paina asked him to look for more soil at the bottom of the great ocean that had formed. With that material still scarce, Ñañe Paina ordered: "Let there be land!" Then Wiwati, the spirit of the jungle, appeared and shouted, "Huiii noño noñoo!" With his cry, trees grew and little by little formed forests. However, Ñañe Paina ordered those forests to be burned. Then he asked Wiwati to shout again so that, this time, fruit and timber trees would grow where monkeys, toucans and colorful people could live.

This is the story that Justino Piaguaje, territory leader of the Siekopai nation of Ecuador, and Hernán Payaguaje, territory monitor and co-founder of the Alianza Ceibo organization, keep alive.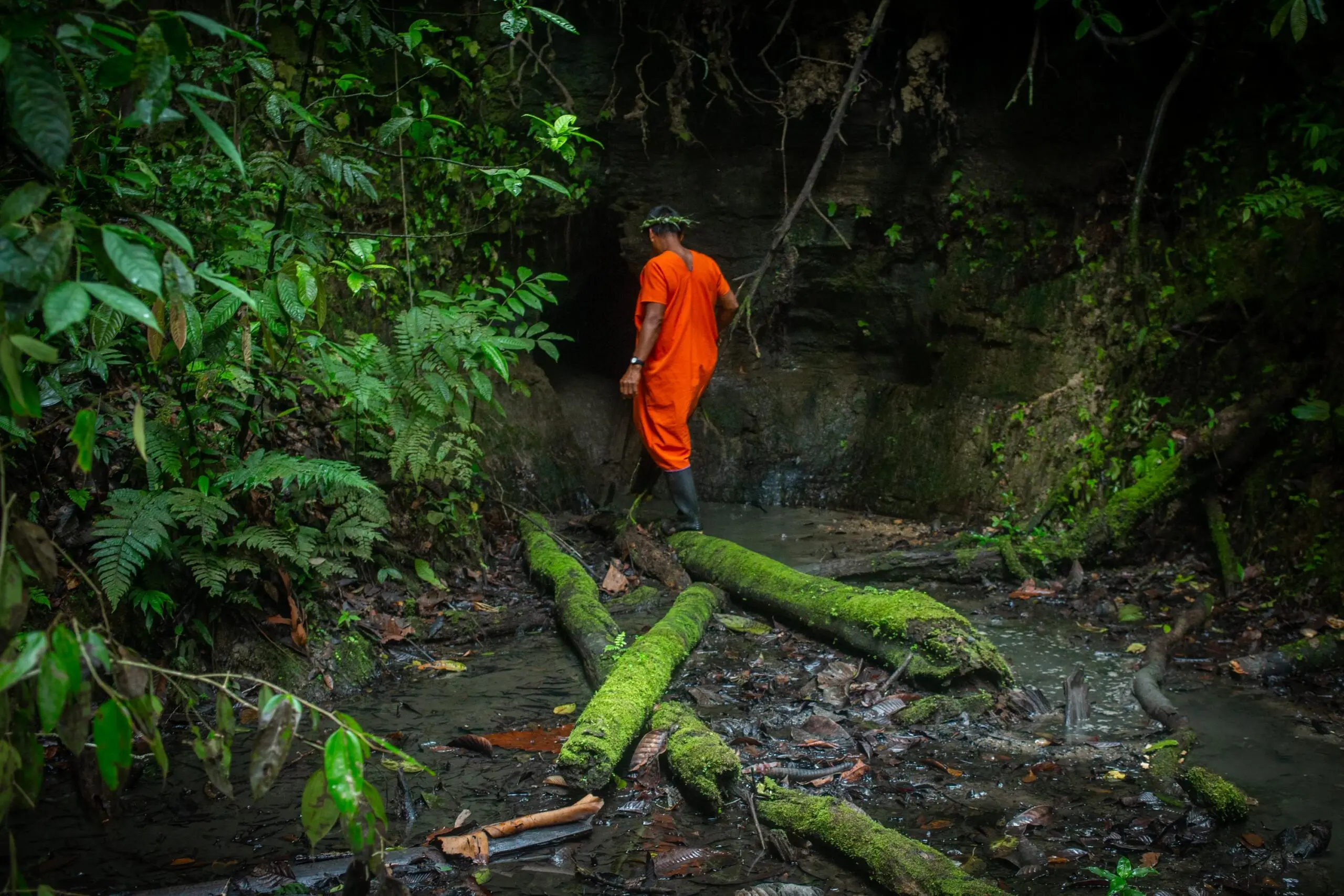 In Paicoca, the ancestral language of this nation from the northern border of Ecuador and Peru, 'sieko' means colors and 'pai' means person. The Siekopai are the colorful people. They were called redwoods during most of the 20th century and the beginning of the 21st century due to a confusion of the Jesuit missionaries. The Siecoya River, in Peruvian territory, is a tributary of the Santa Maria River, which in turn is a tributary of the great Napo River that feeds the Amazon.
---
As a nonprofit journalism organization, we depend on your support to fund journalism covering underreported issues around the world. Donate any amount today to become a Pulitzer Center Champion and receive exclusive benefits!
---
Before contact with Europeans, the Siekopai numbered in the thousands. It is estimated that there were around 20,000 Sionas —a sister nation— and Siekopai when the Jesuit missions began in the 17th century, according to information gathered by Justino.

The colored people inhabited an area of approximately 80,000 hectares on the current northern border between Ecuador and Peru, according to anthropologist William Vickers. Since the Spanish conquest of America, in the territory of this nation there were chapters of incursions of Jesuit missionaries. Later, semi-slavery conditions were recorded during the rubber boom. These episodes brought diseases such as influenza and smallpox, and the conflicts derived from these incursions depleted the population.