Gender violence and machismo have been taboo subjects in Brazilian indigenous communities. Now, a new generation is breaking the silence.
Video by openDemocracy. Brazil, 2022.
Guarded by a powerful military police detachment, a massive march of representatives of up to 25 indigenous ethnic groups descends Paralela Avenue, near the headquarters of the legislative assembly of the state of Bahia, in the city of Salvador, in northeastern Brazil. The police, with riot gear, show a clear intimidating attitude, while the different indigenous groups of the Pataxó Hã-hã-hãe, Pataxó, Kaimbé, Kiriri, Tumbalalalá and Pankararé peoples display their dances and protest songs, wearing their best feather headdresses and other distinctive ornaments of their identity.
In spite of the evident tension and the fact that anti-government slogans and shouts of "Fora Bolsonaro" (out with Bolsonaro) are repeated with defiant persistence, the march ends without incident—unlike the previous day, where there was an altercation between the police and the demonstrators—in the same esplanade from which it started, near the Bahia Administrative Center (CAB). There, a large camp of indigenous groups from all corners of the state has been set up to hold several days of debates and workshops and to assert their rights, which they perceive as diminished and threatened. Among the activities of greatest interest are those organized by the Pataxó hã-hã-hãe women, who work on the feminist agenda and fight against gender violence, which also affects indigenous women intensely.
One of the activists most present in the debates is Hamangaí Marcos Melo Pataxó, a 24-year-old daughter of the Pataxó and Terena peoples. She was born and raised in the village of Caramuru Catarina Paraguaçu, a town located 460 kilometers south of Salvador, in the same state of Bahia. A student of veterinary medicine at the Federal University of Recôncavo da Bahia (UFRB), she works on the climate agenda and is national coordinator of the organization Engajamundo, an NGO of young environmentalists spread throughout Brazil. She is also an advisor to Humana, which works for the human rights of Brazilian girls and women.
---
As a nonprofit journalism organization, we depend on your support to fund journalism covering underreported issues around the world. Donate any amount today to become a Pulitzer Center Champion and receive exclusive benefits!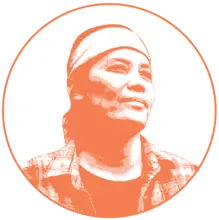 ---